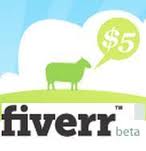 Forget past mistakes. Forget failures. Forget everything except what you're going to do now and do it. ~ William Durant
Chino Hills, CA (PRWEB) May 30, 2012
Personal training marketing professionals are now recommending Fiverr to help their clients increase their internet presence. Fiverr is a website that brings together providers and buyers who are looking to have a variety of tasks completed for just $5. Al lot of the services offered on Fiverr are related to internet marketing such as graphic design, link building, social media marketing, SEO, and video creation.
Sam Bakhtiar, owner of Fitness Consulting Inc. and popular fitness marketing website Super-Trainer.com highly recommends all of his clients utilize the inexpensive service. He explains that fitness trainers can get some serious results with their websites by using Fiverr providers and their SEO expertise.
Bakhtiar goes on to say that graphic design and SEO video creation are especially effective services that can be utilized. For just $5 a professional video can be created and SEO optimized and placed on a fitness professional's website. For just the price of a fast food value meal, fitness professionals can see their website climb the Google rankings and capture qualified leads through organic Google searches done by customers in their local market. The Fiverr website can be found at Fiverr.com. To learn more fitness marketing tactics like these go to Bahktiar's website Super-Trainer.com
About Super-Trainer.Com:
Super-Trainer.com is a fitness marketing website owned and operated by Dr. and former champion bodybuilder "7 Figure" Sam Bakhtiar. He specializes in helping fitness trainers, gym owners, and boot camp operators earn a six figure income with their business by helping them establish concrete and effective marketing principles designed to attract and retain clients. His passion is to help fitness professionals succeed and earn a lucrative living by helping others get in shape. For more information about Sam's Fitness Marketing programs visit his website now.
Media Contact: Sam Bakhtiar
Fitness Consulting Inc.
14682 Central Avenue
Chino, CA 91710
###