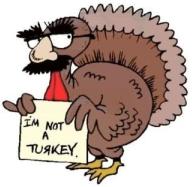 I love Thanksgiving turkey... It's the only time in Los Angeles that you see natural breasts. ~ Arnold Schwarzenegger
Chino Hills, CA (PRWEB) November 23, 2011
The average American gains seven pounds from Thanksgiving through New Year's according to Fitness Marketing website Super-Trainer.com. Turkey is often blamed as one of the culprits because it is often times the main dish served up at holiday meals. But an in-depth look at the situation reveals that turkey may very well be the holiday scapegoat.
While turkey is typically the main course, it is certainly not the unhealthiest food at the table. What about the rolls, pie, cake, mashed potatoes, salad with all the trimmings, and so on? In fact, a closer nutritional look at turkey shows it is quite healthy. A 33 gram serving of turkey breast meat yields:
34 calories
1 gram of fat
1 carbohydrate
1 gram dietary sugar
6 grams of protein
That nutritional profile shows proof that turkey is good for you. So maybe the secret to keeping off those holiday pounds is to eat more turkey so you don't have room for all of the other fixings that are loaded with carbs, fat, and sugar.
Super-Trainer.com founder and CEO Sam Bakhtiar enjoys sharing this type of nutritional and business advice with his fitness clients who range from gym owners, personal trainers, yoga instructors, and boot camp operators. Bakhtiar knows a thing or two about nutrition and business. He has a degree in nutrition and has won several bodybuilding championships in different weight classes. He also has a growing list of clients who he has helped achieve their dreams of owning and operating a successful fitness-related business.
About Super-Trainer.Com:
Super-Trainer.com is a Fitness Marketing website and community owned by personal trainer and entrepreneur Sam "7Figure Sam" Bakhtiar. Bakhtiar specializes in helping fitness enthusiasts including personal trainers, gym owners, and boot camp operators run a successful business. Super-Trainer.com utilizes a unique marketing and community platform that allows interested fitness professionals to post helpful information on how to leverage business resources and marketing tips to grow their business.
###