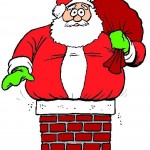 There are many temptations in this life, but cake is probably one of the biggest of them. ~ Alexander McCall Smith
Chino Hills, CA (PRWEB) December 06, 2011
The holidays are a great time to spend with family and friends. One of the favorite holiday activities in America during the holidays is eating according to health and Fitness Marketing experts. There are so many statistics out there that show the average person gains somewhere between 7-10 pounds during the holiday season that have people running scared, but are all of those myths really true? The answer is no.
The prevailing myth is that most people gain between 7-10 pounds during the holidays. The most recent studies show that people gain less than half of that. That's certainly good news, but it is a double-edged sword. A closer look at the data shows that people gain just as much after the holidays during the period from January-March.
Another common myth about holiday weight gain is that fasting all day and consuming a huge holiday meal will help keep the unwanted pounds at bay. That is bad advice according to health professionals. This way of eating slows down the metabolism and results in making it harder to lose weight over the long haul.
Most people simply give in and accept that gaining the holiday weight is inevitable. That is one prevalent myth that ends up hurting people's health and waistline because they typically don't lose it causing their weight to go up year after year. According to Super-Trainer.com fitness expert Sam Bakhtiar, the best way to beat the holiday weight gain is to find a great fitness trainer or enroll in a fitness boot camp to the drop the pounds. And Bakhtiar would know. He makes a lucrative living helping people meet their fitness goals and was a former bodybuilding champion.
About Super-Trainer.Com:
Super-Trainer.com is a Fitness Marketing website and community owned by personal trainer and entrepreneur Sam "7Figure Sam" Bakhtiar. Bakhtiar specializes in helping fitness enthusiasts including personal trainers, gym owners, and boot camp operators run a successful business. Super-Trainer.com utilizes a unique marketing and community platform that allows interested fitness professionals to post helpful information on how to leverage business resources and marketing tips to grow their business.
###