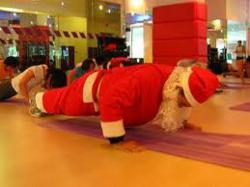 You are what you think about all day long. ~ Dr. Robert Schuller
Chino Hills, CA (PRWEB) December 19, 2011
People who are good at personal trainer marketing know that Christmas is a cash-cow holiday. However, many personal trainers dread the holiday season because they fear clients who take vacations, cut back on expenses for the holidays, or drop off in the New Year. Rather than take a vacation during this time, the smart personal trainer will take the right steps to ensure an even more productive season heading into 2012.
According to 20-year personal trainer marketing expert, Sam Bakhtiar, there are several things a personal trainer can do to maintain and grow business over the holiday season, all the while taking much-needed time off for shopping, holiday parties and family time.
1. Gift Cards: Every fitness marketing strategy should be promoting personal training gift card "stocking stuffers" this time of year. Conveniently, these cards also fit rather nicely inside a card! Creating $50 or $100 gift cards is a great way to encourage existing clients to refer their family and friends.
2. Extra Sessions: It can be really hard to maintain weight loss or an exercise routine this time of year. Sensing that, it helps for some people to ramp up their commitment to fitness over the holidays. Offer to squeeze in extra sessions for half-price during the weeks leading up to Christmas. This will fill any voids in a trainer's schedule pretty nicely.
3. Give Surprises: Do something special each week for clients over the holiday season. Trainers can bake up their favorite healthy treats and hand them out along with the recipes to promote holiday wellness. They can also run a contest or survey with entries to win a big grand prize like an iPad. People will be more inclined to participate in hopes of winning an awesome Christmas present for someone special.
4. Encourage Pay-In-Full: Trainers who offer pay-as-you-go plans often see trouble in December if they have a lot of clients who are "cutting back to save for Christmas gifts." The most successful people in personal trainer marketing offer enticing incentives for people who are willing to pay for six months or a year of sessions in full, in advance.
Speaking of holiday deals, "7 Figure" Sam would like to offer personal trainers a free download of his "Six Figures in 67 Days" e-manual. This tested, tried and true fitness marketing program can be accessed at http://www.super-trainer.com for a limited time only.
About Sam Bakhtiar
Sam Bakhtiar is a Persian-born American with over twenty years of experience in fitness training and body building. After completing B.S in Premed and Nutrition, Sam also received a degree of doctorate of Chiropractics. Along with being one of the best fitness trainers, Sam is also a business and marketing expert. After establishing a successful fitness training business with substantial income, Sam is helping other professionals in the industry to achieve their business goals. For more information, please contact using the following information.
Contact Information:
Sam Bakhtiar
Fitness Concepts
909-393-9075
http://www.super-trainer.com
###