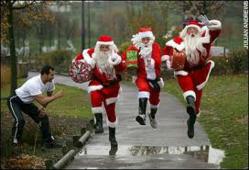 Keys to success... Research your idea, Plan for success, Expect success, & just plain do it! It amazes me how many people skip the last step! Practice being a "doer" and success will follow you every step of the way! ~ Josh S. Hinds
Chino Hills, CA (PRWEB) December 23, 2011
The holidays are a gold mine for anyone in the fitness industry, especially since losing weight and improving health are frequently listed in Americans' top 5 New Year's resolutions. "7 Figure" Sam Bakhtiar, a 20-year personal trainer marketing veteran, shares his tips for creating a dynamic email that will really speak to existing clients and new prospects this season.
"If you want your personal trainer marketing to pay off well into 2012, then you've got to reach out to your clients and show them you care. Otherwise, another trainer will pop up with arms wide open," Sam explains. One email might reel people in with a subject like "these fat loss results are insane!" In the body, trainers can talk about how their clients are losing by the inches and pounds during the holidays. Then, they can reach out by saying, "But let's talk about you. Are you handling the holidays ok? Do you need any help with your fitness or nutrition plan? Please feel free to ask me anything."
"Answering people's popular questions is another great way to conduct personal trainer marketing over the holidays," Sam adds. "Not only does it make the trainer sound totally busy during the holidays, but it also shows a certain degree of care and concern." First, answer a nutrition-related question. Then, answer a question like "Will I Be Talking On Any New Clients Before the New Year?" This is a trainer's best opportunity to mention that there are 15 spots left because he or she has added more class times, but also mention that there will be a $20 price hike after the holidays to attract only the most dedicated participants.
"I also like to send out a Merry Christmas email just a few days before December 25th to provide clients with a special gift." The personal trainer marketing offer should let clients know the price of boot camp will be increasing in the New Year, but people who act right away to book can save $40. Another email can be sent out five days prior to the New Year, letting people know how many spots are left in the class and reiterating the money off promotion. Trainers shouldn't be afraid to send out several more promotional offers as the day draws nearer.
"Sometimes in personal trainer marketing, you've got to spell it out for them," Sam advises. "You need to put the pressure on and let them know that only the first 7 people to respond get this amazing deal. Then you can go into some of the benefits. Let them know how you will walk them through, step by step, to goal set and create a roadmap to achievement. Let them know you don't promote dieting, but rather, lifestyle transformation. Let them know that there will be no more guesswork and that you're totally committed to their health and wellness. Who doesn't want that?"
For a limited time only, "7 Figure" Sam would like to offer trainers a free download of his "Six Figures in 67 Days" program. This effective fitness marketing program can be accessed at http://www.super-trainer.com.
About Sam Bakhtiar
Sam Bakhtiar is a Persian born American with over twenty years of experience in fitness training and body building. After completing B.S in Premed and Nutrition, Sam also received a degree of doctorate of Chiropractics. Along with being one of the best fitness trainers, Sam is also a business and marketing expert. After establishing a successful fitness training business with substantial income, Sam is helping other professionals in the industry to achieve their business goals. For more information, please contact using the following information.
Contact Information:
Sam Bakhtiar
Fitness Concepts
909-393-9075
http://www.super-trainer.com
###