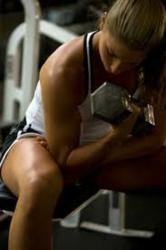 A day will never be anymore than what you make of it. Practice being a "doer"! ~ Josh S. Hinds
Chino Hills, CA (PRWEB) December 26, 2011
With the New Year's holiday rapidly approaching, many personal trainers are undoubtedly reflecting upon their careers and the progress they've made over the past year. At one time, "7FigureSam" was working too much and making too little. It was hard to even enjoy the holidays he was working so much. He knew something had to change in his personal trainer marketing practices.
After understudying several fitness industry business professionals, Sam had a clear idea of where his personal trainer marketing needed to be. Now he's a multi-million dollar player who would like to share his knowledge with others. The holidays are a busy time for successful fitness trainers, so his helpful words of wisdom couldn't have come at a better time.
"It's safe to say that most of us would much rather be spending time with our spouses and children, rather than doing all the busywork that comes along with personal trainer marketing -- sending emails, setting up lead boxes, phoning past clients, and writing content for our websites," Sam explains. "The goal is to systematize and automate the business of personal trainer marketing so it's working 24/7 for you, while you enjoy the fruits of your labor and spend more time with friends and family."
Personal trainers can visit http://www.super-trainer.com to read informative articles on a regular basis with topics such as "Developing Trends In Corporate Wellness," "Five Business Mistakes To Avoid" and "How To Get Highly Qualified Leads." In addition to reading advice from the master, "7FigureSam" himself, personal trainers will also see blogs from refreshing new faces within Sam's network – many of which have participated in Sam's mentorship program and who are now also making big bucks in the industry! There are also tutorials, videos and access to personal trainer marketing tools that will make life easier.
"I provide all the tools you need to be successful in fitness marketing," explains Sam, "but at the end of the day, it's still up to the trainers to have the desire and motivation to be the best. Results require a huge amount of effort – from developing the game plan to the execution of that strategy." He adds that the "right type of person with the right frame of mind" will see tangible results in a short period of time if they follow his advice.
One of the benefits of this personal trainer marketing blog is that the material is easily digestible and all online, so trainers can peruse the material at their leisure. People who want a more in-depth study of the steps and process to becoming a millionaire personal trainer can benefit from Sam Bakhtiar's 10-month mentorship program, which is available at his blog as well.
About Sam Bakhtiar
Sam Bakhtiar is a Persian-born American with over twenty years of experience in fitness training and body building. After completing B.S in Premed and Nutrition, Sam also received a degree of doctorate of Chiropractics. Along with being one of the best fitness trainers, Sam is also a business and marketing expert. After establishing a successful fitness training business with substantial income, Sam is helping other professionals in the industry to achieve their business goals. For more information, please contact using the following information.
Contact Information:
Sam Bakhtiar
Fitness Concepts
909-393-9075
http://www.super-trainer.com
###