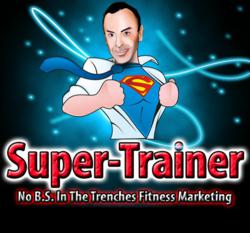 Try not to become a man of success but a man of value. ~ Albert Einstein
Chino Hills, CA (PRWEB) December 29, 2011
Super-Trainer.com has revamped their site just in time for the holidays. The Fitness Marketing website provides a marketing course titled, "Six-Figures in 67 Days Blue Print" for fitness professionals to increase their income potential and current earnings.
The site was founded by body-builder turned entrepreneur Sam Bakhtiar. Bakhtiar's life truly represents the American Dream for people who immigrate to the United States. He was born in Persia and moved to the United States in 1985, and has a track record of great personal and business success. He graduated with a multiple degrees and holds a Doctorate in Chiropractic Medicine.
He then became a body builder and won titles in multiple weight classes. He always had a passion for business, and now spends his time helping new and veteran fitness professionals run a lucrative business.
The average American could certainly use the skills of a highly trained fitness professional. Americans gain an average of seven pounds during the holiday season alone. Without the help of a trainer it can be virtually impossible to get off. But that's where Sam and his clients come in.
The fitness marketing is quite robust with a lot of fitness marketing content. Bakhtiar says his passion is fueled by the fact the "I am just like many of my clients. I'm in the trenches learning and exploring ways to improve my business, educate myself, and provide a better life for my family."
The site often features guest blog posts by top fitness and business professionals who enjoy sharing their wisdom with hungry fitness entrepreneurs.
About Super-Trainer.Com:
Super-Trainer.com is a Fitness Marketing website and community owned by personal trainer and entrepreneur Sam "7Figure Sam" Bakhtiar. Bakhtiar specializes in helping fitness enthusiasts including personal trainers, gym owners, and boot camp operators run a successful business. Super-Trainer.com utilizes a unique marketing and community platform that allows interested fitness professionals to post helpful information on how to leverage business resources and marketing tips to grow their business.
###