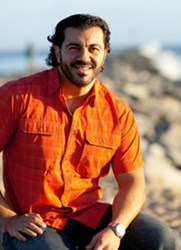 Life is so much better when you have a predictable marketing system that gets you all the clients you need and want.
Chino Hills, CA (PRWEB) June 03, 2013
"Most of the trainers I talk to are doing all the wrong things and ultimately wasting a bunch of money on dead end fitness marketing," explains Bedros Keuilian, founder of the popular fitness marketing blog PTPower who is read by thousands of personal trainers worldwide.
System 9, out now at PTPower.com, is Keuilian's proven fitness marketing system created to help personal trainers attract and retain clients, thus growing their fitness businesses.
Keuilian, a top fitness marketing expert in the personal training industry, says that it is important for personal trainers and fitness professionals to have a reliable marketing system because the most effective ones save time, money, and works consistently to attract new clients.
The comprehensive fitness marketing system, System 9, provides personal trainers with an in depth look at nine of Keuilian's best and proven marketing systems and covers various business topics relevant to fitness professionals like how to get personal training clients on an automatic billing service, how to come up with content for a newsletter to better market a fitness business, and ways to make boot camp marketing free or low-cost enough to fit in any personal trainer's budget.
"System 9 provided a breakthrough for my business," says Jon Quinn of Captain Quinn's Boot Camp. He explains, "Before I watched the DVDs, I was new to the boot camp world and only had a decent website, but no clients. Four weeks later, after implementing several of the suggestions in the System 9 videos, I have two boot camps established, 20 people registered, and a multi-month private personal training client."
Keuilian says he developed System 9 to help personal trainers reach their true earning potential. By demonstrating easy to follow and low cost fitness marketing tactics that Keuilian himself has been known to use in his own businesses, he proves that fitness professionals do not have to hire an expensive marketing team to promote their businesses.
"Life is so much better when you have a predictable marketing system that gets you all the clients you need and want," says Keuilian.
To find out more about System 9, please visit Grow Your Fitness Business at PTPower.com.
About PTPower
PTPower.com is the popular online fitness marketing blog created and maintained by Bedros Keuilian. Keuilian is the President, CEO, and Founder of PTPower and the fitness boot camp franchise, Fit Body Boot Camp and is dedicated to helping fitness professionals and personal trainers grow their fitness business and reach their financial goals. To find out more about FitPro Newsletter, PTPower.com, or the boot camp franchise, Fit Body Boot Camp, please visit https://fitpronewsletter.com/, http://ptpower.com/ , or http://www.myfitbodybootcamp.com/