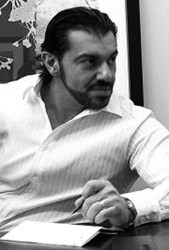 Until we let cameras into the Fitness Business Mastermind, I was unable to work with the independent trainer, the studio and boot camp owner, and the fitness info marketer.
Chino Hills, CA (PRWEB) May 24, 2013
After spending so many years as a personal trainer, Bedros Keuilian wanted to do something a little more than just help his own personal training clients. He felt that he could reach more people by coaching personal trainers so that they could go out and help others to get fit and healthy. That is how Keuilian's coaching career came about and now with the introduction of Fitness Business Breakthrough DVD, even more personal trainers can receive his expert advice on fitness business systems and which new marketing strategies work best to bring in and retain clients.
Finally letting cameras into one of his elusive Fitness Business Mastermind weekend meetings, Keuilian films the breaks down his best fitness business and marketing practices for his coaching clients and helps them to solve their most pressing business problems. The Fitness Business Breakthrough DVD is out now and available at PTPower.com.
"Personal trainers are always asking me how much it would cost for me to work with them, in order to multiply their personal income, systemize their marketing, and see their way to massive fitness business success" explains Keuilian, he adds, "Until we let cameras into my Fitness Business Mastermind to film the Fitness Business Breakthrough, I was unable to work with the independent trainer, the studio and boot camp owner, and the fitness info marketer."
Knowing that attending an average Fitness Business Mastermind meeting is not an option for most personal trainers due to lack of funds, Keuilian finally decided to allow cameras into the exclusive meeting to show personal trainers at home how they can boost their fitness marketing and business skills.
'I was $60,000 in credit card debt and was told that I'd make more money working for McDonald's before I met Bedros and attended a Fitness Business Mastermind meeting" explains Samantha Taylor, certified personal trainer and successful owner of Fit Body Boot Camp in Lutz, FL. She says "I was able to pay all of that off in a year with everything I learned from Bedros and his Fitness Business Mastermind. I now have three personal trainers that work for me and I have been able to average close to a million in sales a year."
The goal of Fitness Business Mastermind is to help personal trainers boost their value and client base. By taking eight different personal trainers/entrepreneurs and filming them sitting down and dissecting their most pressing business problems, Keuilian has come up with a way to benefit many more personal trainers who are experiencing the same business issues.
About PTPower
To find out more about Bedros Keuilian, his company PTPower.com and the fitness boot camp franchise, Fit Body Boot Camp, contact Bedros Keuilian at (800) 261-0208. Alternatively, you may use the contact form at http://ptpower.com/contact-me/ or send an email to Bedros Keuilian at support(at)keuilian(dot)com.