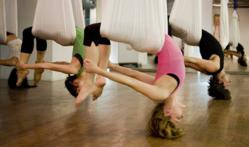 Some of the best clients are those who have come to the business as referrals...
Chino Hills, California (PRWEB) February 24, 2012
As a qualified ACE certified personal trainer with a successful coaching and Boot Camp Marketing business, there isn't much Bedros Keuilian doesn't know about marketing fitness related businesses. In fact his latest blog post focuses on the most overlooked tactic in the whole of fitness marketing.
"All businesses have marketing budgets," says Bedros. "But it makes sense to utilize the low hanging fruit first – the marketing methods that produce the best results almost instantly. Low hanging fruit is the easiest fruit to pick, yet it is quite often overlooked by people who attend my Boot Camp Marketing workshops and coaching programs."
In his blog post on fitness marketing tactics, Bedros goes on to say that the lowest hanging fruit in this business is referrals. They are pre-qualified because they have been recommended to the business, and thus some of the initial stumbling blocks to trusting a business have been removed.
"Some of the best clients are those who have come to the business as referrals," adds Bedros. "But many fitness trainers have found that it can be difficult to get the referrals they want. It is important to set up proper expectations right from the start in order to get referrals much more easily. It is also important to ensure clients feel valued and appreciated, as this will increase the chances of them providing the referrals to drive the business."
Many trainers who are looking into growing their businesses in this unpredictable economy expect to get secret techniques or brand new methods to bring in more business. But as Bedros has shown, the referral technique gets results without having to resort to expensive and yet to be proven marketing strategies.
"The best marketing systems are the predictable ones," Bedros confirms. "There is no need to do anything complex or new to get the desired results to grow a business. Fitness trainers often find that by utilizing the referral technique – using the strategies given on PTPower.com – they can grow their business significantly and easily. It has never been more important to grow a business that is reliable and sustainable. This stuff works, and it will provide clients virtually on tap."
PT Power is based in the southern California. The Fitness Marketing blog is designed to help those who wish to enhance and grow their fitness business. It is maintained by Bedros Keuilian and gives insights into proven and time tested fitness business and associated topics, including Boot Camp Marketing and Bedros' coaching and consulting program. More information about Bedros Keuilian and PT Power can be found by visiting http://ptpower.com.
To find out more about the Fitness Marketing blog and PT Power, contact Bedros Keuilian on (800) 261-0208. Alternatively there is a contact form at http://ptpower.com/contact-me/. Bedros can also be emailed at support(at)keuilian(dot)com.
# # #