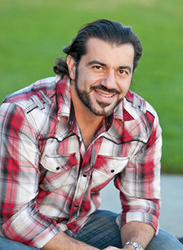 A good coach or personal trainer provides something that you can't find anywhere else.
Chino Hills, CA (PRWEB) July 25, 2014
Bedros Keuilian has been a personal trainer, founded the fastest-selling fitness franchise business in the country, and is considered the industry's leading fitness marketing coach. In the latest post on his coaching website, RenegadeMarketing.com, he explains why information available on the internet can't replace the help of a good personal trainer.
"I've been really privileged to be able to work with some of the leaders in the fitness industry and I've helped many of them to develop their own websites and fitness information products," he says. "But information can never replace the skills and supervision of a great personal trainer."
Keuilian explains that this is knowing how the body burns fat or how to do a deadlift correctly is only part of the equation when it comes to getting fit.
As he explains in the post, "A good coach or personal trainer provides something that you can't find anywhere else - the help you need to identify your goals, develop a solid game plan to help you achieve those goals, help and support when self-sabotage sets in, strength to stick to the program even when the going gets tough, and the confidence to help you maintain your goals."
Keuilian says that this support, encouragement and direction is needed more than ever, despite all of the health and fitness information available on the internet. "Obesity is at an all-time high and has only gone up in the years since every household got a computer and an internet connection," he says. "Type 2 diabetes is still climbing. Most people need more than good information. They need someone to help them apply it to their own lives and their own bodies."
Although a large part of his business includes teaching personal trainers to use the internet and their own fitness information products as fitness marketing tools, he says that most beginners will do much better with a personal coach than they will on their own.
"You can read about how to drive online or watch how-to videos on YouTube, but having an experienced driver in the car with you is still the best way to learn," he explains. "Fitness is the same way. Most people need someone to sort the relevant information from the irrelevant and then show them how to apply it, cheer them on when they work hard and help them to tweak their programs as they progress."
Keuilian adds that getting the help of a personal trainer doesn't have to be expensive. "You can get plenty of one-on-one help even in a fitness boot camp setting. The difference it makes is enormous."
About Keuilian Inc.
Keuilian Inc. (est. 2007) was founded by fitness marketing and business consultant Bedros Keuilian, who has been named the "hidden genius" behind several of the biggest names in the fitness industry. In addition, he is also the founder of the popular fitness marketing blog, PTPower.com, and founder and CEO of the indoor fitness boot camp franchise, Fit Body Boot Camp.
To find out more about Bedros Keuilian and his fitness boot camp franchise, please visit http://www.ptpower.com/ and http://www.myfitbodybootcamp.com/.