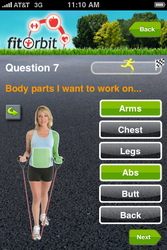 Los Angeles, CA (Vocus) September 17, 2009
Daily access to a real fitness professional for weight loss, exercise, and diet training just became more affordable and accessible with the FitOrbit iPhone application.
The FitOrbit iPhone application is the first iPhone application to connect the mobile user with a real professional for daily one-to-one fitness training.
FitOrbit is an online service brings real fitness professionals and clients together everyday for affordable, personalized diet and exercise training. Whether it is on the iPhone or on the web, FitOrbit allows the personal trainer to deliver more than what they are typically able to do given geographic constraints, scheduling conflicts, and the economic downturn. Personal trainers with FitOrbit are able to provide their clients with daily monitoring and tracking, a support group for immediate motivation, grocery lists, recipes, meal preparations tips, local restaurant substitutions and complete nutritional information including serving sizes. Additionally, FitOrbit trainers are able to constantly adapt their clients' meal and fitness plans to fit their changing lifestyles through continuous online dialogue.
Anyone interested in getting a FitOrbit trainer can download the free iPhone application and take the FitOrbit quiz, which matches them to the best personal trainers for their lifestyle, preferences, and goals. With hundreds of available trainers, people are sure to find a match that will be instrumental in achieving their goals – whether it's to lose weight, build muscle, or get their post-baby body back. iPhone users also have free access to articles written by FitOrbit trainers, providing members with the most up-to-date information on eating well and workout trends.
At a time when two-thirds of Americans are either overweight or obese and less than 4% of overweight adults have used a personal trainer, FitOrbit fills the massive gap for the 150 million people looking for professional diet and exercise guidance.
Holly Perkins, a FitOrbit Trainer whose client Rafael has already lost 16 lbs in 7 weeks on FitOrbit says, "As a trainer, I am very excited that my FitOrbit clients will now be able to access the daily workout and meal plans I give them right on their iPhones. Making healthy food choices and exercising right have never been more convenient or as accessible thanks to FitOrbit. The app itself is free too, and if you're not a FitOrbit member yet, you can use the iPhone to register and even pick your trainer."
To get a FitOrbit trainer and a custom meal and workout plan please visit FitOrbit.com. The FitOrbit iPhone application is free and available to download in the Apple App Store.
About FitOrbit
FitOrbit takes the proven formula of the one-on-one trainer to client relationship to the online world. This instant accessibility provides unprecedented efficiency for all members with flexible and affordable personal training to the consumers; as well as new business opportunities for fitness professionals.
Launched in June 2009, FitOrbit was developed by Global Fitness Media, a start-up company headquartered in Los Angeles focused on developing web and mobile technology, products, and services that work for real people living in the real world. Global Fitness Media launched the award-winning restaurant nutrition search GoodFoodNearYou in February of 2009. To find out more information on FitOrbit, visit FitOrbit.com.
Media Contact:
Jackie Crystal/Courtney Thompson
ink Public Relations
310.860.0806
Talia Roselli
Global Fitness Media
424.652.9650
###