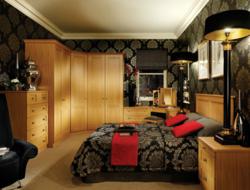 A Valentine's gift as luxurious as a fitted bedroom should be as unique as the person it is intended for.
United Kingdom (PRWEB) January 31, 2013
Leading British fitted furniture manufacturer, Strachan Furniture Makers, has come up with the ideal gift for Valentine's Day that will keep on giving, year after year. Strachan is encouraging all the Romantics out there to present their partner with a beautiful new fitted bedroom for Valentine's Day.
At the centre of every luxurious romantic bedroom should be a magnificent four-poster bed. Strachan make an elegant Chippendale County range that co-ordinates a four-poster bed with wardrobes, bedside tables and a dressing table. And as they hand-craft all of their fitted furniture, customers can specify the colour finish to complement their decor.
Creating a romantic bedroom is a very personal thing - commissioning a professional furniture designer enables shoppers to be braver in their design decisions, and can lead to an exquisite new room that can exceed all expectations and wow their partner.
Everyone's idea of a romantic bedroom is different and oak is a wonderful mid-hue choice around which to build a beautiful fitted bedroom. It teams effortlessly with lighter spring pastel colours or darker, romantic tones that lend a sumptuous air to the room. Soft illumination from elegant bedside lights will pick up the warm oak tones of the fitted bedroom furniture and set the scene for a romantic evening.
Such a luxurious Valentine's gift should be as unique as the person it is intended for. All Strachan's fitted bedrooms are made to measure so they can create the bedroom that's perfect for their customer's lifestyle - for someone with a love of shoes, they will include more pull out shoe racks; for anyone with a passion for evening dresses, add extra hanging space to keep the dresses crease-free.
For those who feel their bedroom is simply not big enough, fitted bedroom furniture can transform awkward corners with fitted wardrobes, providing storage space to help keep the bedroom clutter-free and the perfect romantic retreat.
And the ultimate Valentine's gift? Perhaps a walk in fitted wardrobe or even a spacious dressing room. There's something very relaxing and opulent about keeping a bedrom as a peaceful retreat and having somewhere else for storage and dressing. Walk in wardrobes can provide all the hanging and drawer space needed, leaving more room in the fitted bedroom for a sitting area. A dressing room is the ultimate luxury and can include whatever a customer desires, from clothes storage, sumptuous seating and even laundry facilities – perfect for anyone with a passion for fashion.
Having a new fitted bedroom installed would not be the easiest secret to keep from a loved one until the day itself, but it is possible to have the design to present on Valentine's Day. Strachan's designers can create a design to the customer's specification, whereas the final finishing touches can be incorporated, perhaps by a loved one before the furniture is made.
As the finishing touch, a etched plaque is fitted to the furniture bearing the Strachan name alongside that of the customer. What could be more romantic that that? And finally, Strachan offer a free design, planning and fitting service.
Visit Strachan's website or call free on 0800 0138 139 to find out more about having a bedroom design created for Valentine's Day.