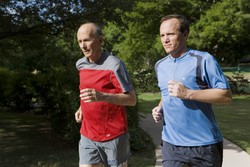 Personal health absolutely influences professional performance.
Dallas, TX (PRWEB) November 2, 2010
Fit to Lead, the first health and business seminar that connects personal health with professional performance, will host an open session on November 4 at Cooper Aerobics Center in Dallas. Developed by Cooper Corporate Solutions, Fit to Lead equips business leaders with the knowledge needed to manage their nutrition, fitness and stress, all of which contribute to their professional productivity.
"Personal health absolutely influences professional performance," said Kenneth H. Cooper, M.D., M.P.H., founder and chairman of Cooper Aerobics Center. "Fit to Lead teaches leaders the valuable link between their fitness and business success. Once they recognize that connection, executives can improve their work performance and impact the performance of their employees."
Today's business leader faces a unique set of challenges daily—heavy travel, high-stress situations, irregular eating and exercise habits, and a never-ending schedule of meetings. Fit to Lead leverages The Cooper Institute learnings—revealing that fit individuals have less stress, anxiety, and are more productive in the workplace—and crafts meaningful plans to empower more effective business leaders though a healthy lifestyle.
During the seminar, Cooper experts share practical strategies for incorporating physical activity and proper nutrition in to an already busy workday—be it in the office or on the road. Participants will learn chair exercises that can be done at their desks, and how to navigate a buffet line with a custom-made portion plate that indicates proper amounts of vegetables, starches, and proteins. A professional fitness trainer leads participants through stretching techniques to increase energy, and participants will leave with a personalized action plan to start their Fit to Lead journey.
"Managing personal health has the power to be a catalyst for positive change to a company's entire workforce," shared Tyler Cooper, M.D., M.P.H., CEO of Cooper Aerobics Enterprises. "My father is an iconic example of a Fit to Lead executive. He's exercising, eating healthy meals, and managing his stress. He has always prioritized his health and, as a result, inspires our company's employees to do the same."
The next Fit to Lead open session will be Thurs., Nov. 4, from 8 a.m. to 4:30 p.m., in the Cooper Clinic Auditorium, at Cooper Aerobics Center Dallas. The cost is $995 per participant. To reserve your seat, please e-mail Michael Ponder at mponder(at)cooperaerobics(dot)com or call at 972-560-5443.
To see the complete agenda, please visit CooperAerobics.com/FitToLead.
About Cooper Corporate Solutions
It is easier and less expensive to maintain good health than it is to regain it once it is lost. This philosophy drives Cooper Corporate Solutions, a Cooper Aerobics company. The Cooper Corporate Solutions consultancy is an innovative and unique concept in the health care industry—providing an integrated risk management approach for corporate executives and employees alike. The four main pillars include: Executive Risk Management, Wellness Consulting and Programs, Benefits Management, Cooper Academy. These areas work in tandem to help companies achieve maximum health and wellness with minimum impact to the bottom line. For more information visit, CooperAerobics.com.
###