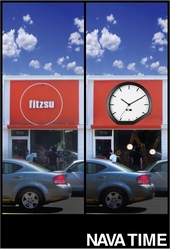 "I don't like to design watches, what I really like is to design time," Denis Guidone Add a quote
Los Angeles, CA (PRWEB) June 10, 2010
Denis Guidone, one of Italy's rising design stars, will be at Fitzsu, 7970 Melrose Ave., on June 26, 2010, for an all day event called Redefining Time. Guidone will be introducing his newest additions to his world recognized watch collection designed for Nava Design. The Nava Design watch collection will also be launched on the fitzsu website, http://www.fitzsu.com.
Minimalism and irony define Guidone's approach to watch design. Minimally, his watches' simple doodles or shapes make you want to watch, not the time, but the playful changes in graphics created by the passage of time. Ironically, his watches are not about the rational telling of time but lack of expected characteristics to allow you to be exact about what time it is. Meant to be accessories more than serious timepieces, Guidone's watches reflect their relevance in today's world as a primary source for accurate time. "I don't like to design watches, what I really like is to design time," says Guidone.
Fitzsu's website and brick and mortar store hosts events throughout the year to bring excitement to the objects they sell and to demonstrate their thoughtful design and functionality. Having Guidone and the entire Nava watch collection accessible to the L.A .public is part of an all day event that includes a brunch time, snack time and cocktail time. "Because our customers may not all be able to go around the world and immerse themselves in design as we do, we try to immerse them as much as we can here," says Fitz, owner of Fitzsu.
For additional information on the Redefining Time event, the designer Denis Guidone or the Nava watches, or to schedule an interview with the designer while he is in Los Angeles, please contact Su Sazama or visit http://www.fitzsu.com. The watches are available at the Melrose store and on line.
About the designer:
Denis Guidone works in Milan, Italy in architecture, design and visual communications. He is the recipient of numerous awards including the Bruno Munari National Award and is the winner of the Los Angeles 2008 International Design Award in Accessory - Watches for his Nava watch Ora Unica. His watch collection for Nava Design includes the Ora, Ora Unica, Ora Lattea and Tempo Libero.
Contact:
Su Sazama,
Fitzsu Society
323.655.1908
http://www.fitzsu.com
###