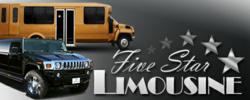 Users of the website are now able to quickly locate the information they seek, as well as reserve a limo or party bus for their special event in or around Portland, Oregon.
Portland, OR (PRWEB) August 15, 2012
Through the implementation of a unique design, well thought-out navigation bars, and customer-oriented content, Five Star Limousine's reinvented website improves on the experience of its users. After its complete overhaul, the company's website now offers users a way to quickly access the information they need, reserve a limousine or party bus, and contact the company directly via a contact form. The website can be found at http://www.fivestarlimousine.biz.
Blending an elegant color scheme with a structured layout, the redesigned website separates the company's limousine and party bus services along the top navigation bar. Users can now easily differentiate between the company's rental options by simply navigating to the desired Web page. Along the left side of the website rests a separate navigation system to guide users to specific party bus and limousine service Web pages.
In hopes of improving its Internet presence, Five Star Limousine has also opted for a full overhaul of its content. With dynamic content that accentuates the company's services, policies, and rental options, information is readily accessible to all users and potential customers.
Implemented within the newly restructured website are multiple ways for customers to stay connected with the company. A conveniently placed contact form allows users to ask questions, comment, or suggest improvements to the company directly, and the use of social media icons brings innovativeness to the site.
The new website also provides customers with a reservation system that allows them to easily book a limousine or party bus for their special events. Through this reservation system, users can also receive free quotes and create accounts for future rental business with the company. Five Star Limousine can be contacted directly at (503) 233-5466, or by visiting its website at http://www.fivestarlimousine.biz.
About Five Star Limousine
Located in Portland, Oregon, Five Star Limousine offers its clientele a large variety of elegant and luxurious limousines and party buses. The company specializes in providing services for weddings, proms, wine tours, graduations, and many other events.