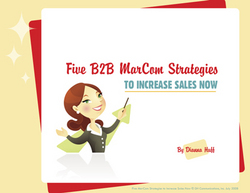 I developed the e-book because marketing has become so fragmented
Plaistow, NH (PRWEB) September 3, 2008
DH Communications, Inc., a B2B marketing communications consultancy, recently released a free e-book, Five B2B MarCom Strategies to Increase Sales Now. The complimentary 20-page e-book can be downloaded without having to register for it.
Written especially for business-to-business (B2B) marketing professionals, the free e-book offers proven B2B marketing communications (marcom) strategies for developing messages and campaigns that resonate with buyers and customers. These strategies, based on examples that Huff has culled from her ten years of B2B marcom consulting and copywriting experience, include eight detailed tips for getting to know your target market; questions marketers should ask about campaign objectives before starting the writing process; integrating online and offline tactics; building a Website around what buyers and prospects want; and writing copy that focuses on the customer, not on the company.
"I developed the e-book because marketing has become so fragmented," said Dianna Huff, principal of DH Communications, Inc., and a B2B marcom expert. "Marketers have so many channels from which to choose today including the new stuff, such as YouTube and Twitter, and the tried and true, such as direct mail and tradeshows. But what I've been seeing is that marketers tend to forget marketing 'basics' in their rush to get campaigns out the door. Hence, campaign objectives aren't well thought out -- which leads to poor results. I'm especially pleased at the initial feedback I've received. One reviewer commented that the e-book could easily serve as a planning platform for marketing teams looking to make big improvements in a tough economy -- or any economy. That's exactly why I'm offering it."
Huff is offering the Five B2B MarCom Strategies to Increase Sales Now e-book as a registration-free download, meaning marketers don't need to fill out a form before downloading it.
About DH Communications, Inc.:
DH Communications, Inc. specializes in B2B marketing communications consulting and copywriting. Dianna Huff, who has won seven awards for her work, is the publisher of the MarCom Writer blog and the monthly B2B marketing e-zine, The MarCom Strategist. Huff has contributed to various publications including MarketingSherpa, Search Engine News, and The Visual Thesaurus. She's also been quoted in numerous books and articles. Marketers can find the MarCom Writer ezine and other B2B marketing articles and reports at the DH Communications Website.
###