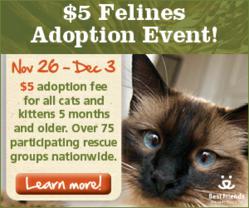 If you can't adopt, please consider supporting these participating animal shelter or rescue groups, either by writing a check, volunteering, or fostering an animal
Kanab, Utah (PRWEB) November 19, 2011
Now purring at an animal shelter or rescue near you is a wonderful cat or kitten who will give you a lifetime of love. And when you adopt this holiday season, you can take advantage of drastically reduced adoption fees during a national "$5 Felines Adoption Event."
Sponsored by Best Friends Animal Society, the $5 Felines Adoption Event is a response to the overflowing supply of adorable, adoptable cats and kittens to be found in shelters. Across the country, 91 local animal shelters and rescue groups in 38 states, all partners with Best Friends' No More Homeless Pets® Network*, will drastically reduce adoption fees for one day between Nov. 26 and Dec. 3. A full list of participating shelters/groups can be found at http://bfas.org/5felines.
"All these wonderful felines are spayed/neutered and current on vaccinations," said Lavanya Raju, Best Friends coordinator. "Shelters and rescue groups are overflowing with cats, so you're sure to find the perfect match to make your dream come true this holiday season. And when you adopt, you'll give a new life to your new best friend, as well as make it possible for another cat to be rescued."
Several animal shelters and rescue groups that participated in Best Friends inaugural $5 Felines adoption event in 2010 are participating again this year.
"We're excited about the $5 Felines event because we had such a positive experience last year. We adopted out 29 cats/kittens in four hours," said Mary Anne MacLean of Friends of Gonzales Animal Shelter, located in Gonzales, Texas. "Our initial concern that, because of the low fees, we might attract lesser quality adopters simply dissolved. Our adopters were excellent and we drew in many people from neighboring small towns who had not visited us before. Now they're supporters."
Lou Ann Jones, president of Newnan-Coweta Humane Society, Newnan, Ga., said: "We are thrilled to be participating in Best Friends $5 Felines adoption event again this year. Last year more than two dozen adult and "teenager" kittens were adopted in a single weekend. We had great success then and hope that this year's event will again give the incentive to many people to take a harder look at some really wonderful adult cats and older kittens that are often overlooked at adoptions."
People who want to help homeless adoptable cats and kittens but can't take one home can still be part of the solution, Raju said.
"If you can't adopt, please consider supporting these participating animal shelter or rescue groups, either by writing a check, volunteering, or fostering an animal. Even a couple of hours a month or a few dollars really add up," Raju said.
To find animal shelters and rescue groups in your state participating in Best Friends' national $5 Felines event, please visit http://bfas.org/5felines.
*The No More Homeless Pets® Network, a program of Best Friends Animal Society, offers help and support to animal rescue groups that save lives in their communities. The program is free and offers fundraising opportunities, adoption events, educational workshops, opportunities for grants, and volunteer recruitment assistance. Qualified 501(c)(3) organizations must apply to join.
About Best Friends Animal Society
Best Friends Animal Society is a nonprofit organization building no-kill programs and partnerships that will bring about a day when there are No More Homeless Pets®. The society's leading initiatives in animal care and community programs are coordinated from its Kanab, Utah, headquarters, the country's largest no-kill sanctuary. This work is made possible by the personal and financial support of a grassroots network of supporters and community partners across the nation.
Become a fan of Best Friends Animal Society on Facebook: http://www.facebook.com/bestfriendsanimalsociety
Follow Best Friends on Twitter: http://twitter.com/BFAS
###