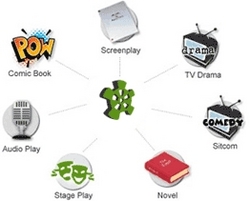 We are absolutely thrilled with the appointments of both Peter and Michael to the FiveSprockets' Advisory Board
San Diego, CA (PRWEB) April 29, 2009
FiveSprockets, Inc., a pioneering force in scripted-media development and production, announced today that it has appointed Peter Csathy and Michael Jewison to its Advisory Board. Both gentlemen will provide FiveSprockets with advisory services across strategic business initiatives, marketing, and partnerships.
Peter Csathy is a seasoned digital media and technology executive with an unbroken track record of company successes in emerging growth, growth, and Fortune 500 companies. Currently President & CEO of Sorenson Media, Csathy's last three companies were sold, respectively, to Logitech, Yahoo!, and AOL. Earlier in his career he held senior management positions at Universal Studios and New Line Cinema. Csathy is a graduate of Harvard Law School (J.D.) and the University of Minnesota.
A 20-year veteran of the film industry, Michael Jewison is COO of Yorktown Productions, the boutique production company he runs with his father, Director Norman Jewison. With producing credits on "The Hurricane" starring Denzel Washington, "Only You" with Robert Downey Jr. and Marisa Tomei, and "In Country" with Bruce Willis, Jewison is involved with every aspect of film production from script development to shooting second unit and running post production. He currently has several feature and television projects in various stages of development.
"We are absolutely thrilled with the appointments of both Peter and Michael to the FiveSprockets' Advisory Board," said Randy Ullrich, CEO of FiveSprockets. "They each offer unique knowledge and connections in many areas relevant to FiveSprockets, and we look forward to receiving their insight in the coming months," said Ullrich.
About FiveSprockets
Launched in 2008, FiveSprockets is an online production studio offering community, resources, and web-based software across the five phases of media production: (1) story development and scriptwriting, (2) pre-production, (3) production, (4) post-production, and (5) marketing and distribution. Founded by Randy Ullrich, a 20-year software / Internet industry veteran and budding screenwriter and filmmaker, FiveSprockets takes a holistic approach to the process of media production, offering a platform specifically designed for the needs of its community. Please visit http://www.fivesprockets.com for more information and visit our The FiveSprockets Blog to read commentaries by and interviews with a variety of media producers.
###