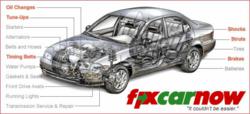 Fix Car Now has been serving customers in the Los Angeles area since 1988.
Los Angeles, Ca (PRWEB) November 24, 2012
In Los Angeles, having a working car is essential to be able to get anywhere. When people have car problems, they want to be able to find out quickly about the services a company offers to make a decision about which car repair shop to use. Fix Car Now has recently launched a new website that makes it easy for consumers to find out what its mechanics can do.
The new website is easy to navigate and contains an extensive amount of information about its services. The new website design is meant for on-the-go people who need to be back on the road quickly. The new design features different sections on services; customer reviews; the company's mission, history and staff and directions to get the shop. The homepage includes a video that has further information about the company, its founders and its services. The new website design makes it simple for consumers to make an educated decision about whether to go with Fix Car Now.
Within the services section, web users can find out more details about the services the company offers. It offers a drop-down navigation menu with sub-sections such as "brake repair," "tune ups" and "body repair." These sub-sections feature information about what Fix Me Now can offer that other companies do not. They also have descriptions of signs potential customers should look for to know if they need brake repair, oil change, tune up or other services. If customers are trying to find out about other services the company offers, the website offers an overview services section with information on all of its services. On this page, people can see that the company has a 24-hour hotline and can do specialized work on luxury cars such as Mercedes.
Fix Car Now has been serving customers in the Los Angeles area since 1988. Chance Brown started the company because he wanted to provide exceptional and speedy services to car owners in the Los Angeles area. The company has nine locations in different parts of the Los Angeles area. All of the shops offer the same multitude of car services, including repair and body work services. No job is too difficult for the experienced staff at Fix Car Now. The repair shops are open seven days a week, including on Sunday, to better serve the needs of customers.
The company stands out because of its investment in customer satisfaction. It provides a two-year warranty on all of its services and free diagnoses and brake checks. Drivers don't have to make appointments to have the company's skilled mechanics assess their vehicles. If repairs are needed, Fix Me Now's staff works hard to do the repairs as quickly as possible so customers aren't left without vehicles for long periods of time.
Find out more about Fix Car Now by going to their website: fixcarnow.com/auto-repair-west-la/