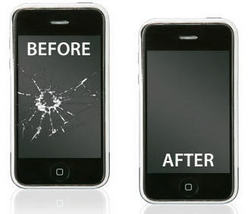 San Antonio, TX (PRWEB) September 2, 2008
Widely known as the leader in iPod battery replacement kits and services, the website ipodjuice.com, run by Milliamp LTD, has officially announced that they are now providing a complete line iPod repair and iPhone repair services.
"We've had our eyes on the Apple iPod repair business for some time now, and we are pleased to help people all over the planet solve their iPod problems, regardless of the issue," said Anthony Magnabosco, the owner of Milliamp LTD.
More than three years ago, when they were just learning how to open an iPod, perform an iPod reset, and conduct other iPod diagnostic tests, the small company perfected their craft by helping thousands of people replace the battery in their iPods and iPod minis.
But as newer iPod models were released, it quickly became apparent that the firm needed to look beyond simply offering iPod battery replacement kits and services, especially on some of the later devices like the iPod nano and iPhone that requiring soldering to remove the old battery and install the new one.
"It has been exciting to watch our company grow over the years, and to receive favorable iPod repair reviews from our customers that needed something more than just a new battery to get running again," continued Magnabosco.
The average iPod repair cost may actually surprise most people -- they are often very reasonable and much less expensive than having to purchase a new device. And in most cases, Milliamp LTD conducts their repairs on the same day the customers' device arrives, and then package them up and ship them out the next business day. And don't forget that fixing a broken iPod or iPone means keeping that device out of your local landfil.
In addition to new batteries and LCD's, the company can perform any type of iPod repair, from installing a new a hard drive or logic board, to swapping out a worn faceplate or backing. The company can even fix iPods that won't even turn on at all, even when connected to a power source.
So when you have tried an iPod reset, and a new battery alone did not fix your issue, it is a relief to know that there is an established iPod repair company that has a bevy of experienced technicians that can offer fast service at a fair price.
Milliamp LTD runs the website ipodjuice.com, both of which are in NO WAY associated with Apple Computer, Inc., in the event you were wondering about that.
'Apple', 'iPod', and 'iPhone' are trademarks of Apple Computer, Inc., registered in the U.S. and other countries.
# # #