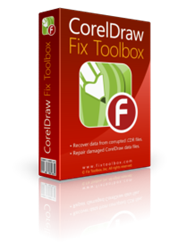 an efficient, reliable and intuitive solution that helps users fix CorelDraw files and extract data from them.
Sacramento, CA (PRWEB) June 06, 2013
Fix Toolbox, a software development company known for its steadily growing portfolio of powerful, yet easy to use and affordable recovery solutions for a wide range of applications and file formats, is glad to announce the release of CorelDraw Fix Toolbox, a compact, fast and efficient tool that helps users fix CorelDraw files after all kinds of data corruption incidents. With a totally revamped file analysis and data recovery engine, the product offers unparalleled ease of recovery for users with minimal experience in this area.
Artists, editors, designers and other professionals working with CorelDraw *.cdr files on a regular basis will appreciate the simplicity of the wizard-based recovery process that consists of just a few steps. The built-in file viewer with zooming and panning support makes it possible to preview the contents of the file being recovered in a convenient manner. Upon the completion of the recovery process, CorelDraw Fix Toolbox ( download) will show a detailed log of the operations performed during the current recovery session. The current version of the software enables users to fix CorelDraw files of versions CorelDraw 10, 11, 12, X3, X4 and X5.
"We are glad to offer a tool that can help literally anyone fix CorelDraw files in a wink of an eye – even if they have zero experience in this area," says Boris Bobrov, Senior Product Manager at Fix Toolbox. "The new version offers full automation of the recovery process and a UI that even a child can use."