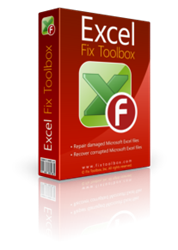 Excel Fix Toolbox opens corrupted workbooks in MS Excel format and permits opening any version of damaged XLS files.
Alexandria, VA (PRWEB) November 29, 2012
Excel Fix Toolbox repairs table styles, number formats, fonts, worksheets, preserves dimensions of columns and saves cell data and formulas. Excel Fix Toolbox repairs information from any type of compressed documents and evaluates the results of analysis in free demo mode. The installation file of Excel Fix Toolbox is really small therefore users start recovering MS Excel workbooks within several minutes after the first error, notifying about data corruption problems.
The customers of Excel Fix Toolbox believe this tool provides efficient services to fix Excel files when the damage affects the internal structure of XLS documents. The ease of its user interface permits opening not accessible worksheets and recovering MS Excel documents in several clicks of your mouse. This software may fix Excel documents immediately after the installation.
Click to visit product site.
The size of Excel Fix Toolbox is very small besides it has a great number of useful features, making the process of fix Excel files more easy and efficient. First of all you may forget about possible compatibility problems, Excel Fix Toolbox opens any version of MS Excel document, the workbook to be opened can be of any size. Besides it supports any version of MS Windows: 98/…/8 and exports the output data into a clean workbook.
Fix Toolbox company is located at: Pacific Business Centre, P.O. Box 34069 #381, Seattle, WA 98124-1069, United States. Fax: 1-206-984-3919. This company provides file repair services for more than 10 years and offers more than 30 data recovery programs.
Excel fix description http://www.excel.fixtoolboxx.com/
Software site http://www.fixtoolboxx.com/