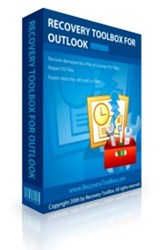 A powerful tool that enables users to fix Outlook on their own and within minimal time.
Alexandria, VA (PRWEB) February 11, 2013
Recovery Toolbox, a company known for its growing line of award-winning data recovery, conversion and migration solutions, releases an update of Recovery Toolbox for Outlook, one of its most popular products that helps fix Outlook data issues after power failures, hardware malfunctions and other incidents.
The program was designed for all audiences and features an intuitive wizard-based interface that is well suited for novices and professionals alike. Recovery Toolbox for Outlook supports the recovery of data from PST files generated in most versions of Outlook and is also capable of fixing OST files. Recovered data can be saves as a new PST file or as a set of files of different formats, such as EML for mail messages and VCF for contacts. This feature facilitates further conversion and import of recovered data to other applications. For extra convenience, the program features a built-in search mechanism that makes it easier for users to find PST and OST files on their computers (read full instruction).
"Recovery Toolbox for Outlook is one of our best-sellers that turned out to be a life-saver for a great many of our customers," explains Victor Bobrov, Senior Product Manager at Recovery Toolbox. "It's no secret that Outlook database files grow big and become vulnerable to data corruption when something goes wrong with the system. Out tool lets you fix Outlook in a wink of an eye and save a pretty penny on specialized data recovery services."
The demo version of Recovery Toolbox for Outlook is available for download from the official site of Recovery Toolbox: recoverytoolbox.com