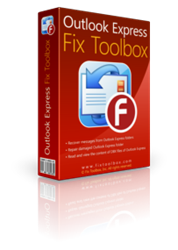 Outlook Express Fix Toolbox provides powerful and intelligent engine for Outlook Express repair on any PC workstation.
Alexandria, VA (PRWEB) December 04, 2012
Fix Outlook Express folders and prevents the destruction of messages, contacts, attachments and other items, stored in Outlook Express email client. It is as easy as advertised, Outlook Express Fix Toolbox, powered by Fix Toolbox software developer, features friendly user interface so the restoration of email folders in DBX format is possible by anyone. Besides the Recovery Wizard feature provides additional instructions so users follow all guidelines step by step and avoid possible errors by getting advice at all stages.
Customers state that Outlook Express Fix Toolbox is one of the fastest methods of fix Outlook Express files that can be triggered on any computer. We always get good testimonials for data recovery tools and services, developed by Fix Toolbox. Besides higher performance of email repair application, users also benefit of the safety of all Outlook Express restoration activities.
Outlook Express Fix Toolbox file repair software recovers even very large files of DBX supported format and works with any version of this mail client. It does not really matter which hardware was chosen for installation, it works on any PC without the loss of performance. Besides, this application ensures the confidentiality of fix Outlook Express folders at any stage, it works on user computer only.
Fix Toolbox provides premium data recovery tools and services for various formats. This company works on the software market since 2003 and sells more than twenty tools for data restoration. Its mailing address is at: Pacific Business Centre, P.O. Box 34069 #381, Seattle, WA 98124-1069, USA, Fax: 1-206-984-3919
Product page http://www.outlookexpress.fixtoolboxx.com/
Official site http://www.fixtoolboxx.com/