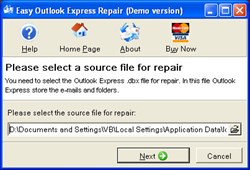 Offers an improved file analysis core and a new level of data recovery efficiency that enables non-professional users to fix Outlook Express DBX files in no time.
Atlanta, GE (PRWEB) April 01, 2013
MailRepair, a leading supplier of file fixing and data recovery tools for many popular applications, announced the release of Easy Outlook Express Repair, an advanced solution that helps fix Outlook Express DBX storage files and recover their data in a series of simple steps.
The interface of the program uses an intuitive wizard that requires a bare minimum of user input and guides the user from the selection of the damaged source file to saving the recovered data to the hard drive. The new product got an updated file analysis and data extraction engine that locates and extracts more items from damaged DBX files than the majority of the program's closest competitors do. The program helps fix Outlook Express files even in situations with very serious data corruption caused by power and hardware failures, software issues and virus attacks. When attempting to fix Outlook Express data, this tool does not modify the structure of the original file, thus allowing users to resort to alternative methods and tools in case they are not satisfied with the results delivered by Easy Outlook Express Repair.
"Since Microsoft Outlook Express is one of the most popular email applications on the market that many users start with, we felt it was absolutely necessary to offer a tool that would help them fix Outlook Express files on their own," explains Victor Bobrov, Head of Development at MailRepair. "Since the release, the product has been a great success and we plan to keep working on improving its engine to offer even higher efficiency and speed of recovery."
Please find more information at official Mail Repair site: http://www.mail-repair.com/faq.html