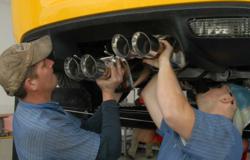 It's generally better and more economical to maintain and fix up a used car versus the purchase and payment costs of a new vehicle every five years or so
Torrance, CA (PRWEB) March 28, 2012
autoMedia.com, a provider of simple do-it-yourself car care, maintenance and repair, has assembled an assortment of affordable ways for drivers to fix up older cars—giving a paid-for vehicle a new lease on life. These fix-up tips can actually help improve engine performance and a driver's personal comfort. Even as the economy improves, not every vehicle owner wants to take on a new car payment. There are inexpensive ways to spruce up an older car to look and feel new—and even improve its gas mileage.
Drivers need to first determine if it makes financial sense to keep and fix up an older car, considering its reliability, and repair and maintenance costs. According to autoMedia, it's generally better and more economical to maintain and fix up a used car versus the purchase and payment costs of a new vehicle every five years or so. By avoiding some obvious auto maintenance mistakes and following these easy updates, motorists can frugally put a fresh shine on an old favorite:

Use car care products to restore and even repair existing paint
Replace a rusty and rattling exhaust system
Replace tires and update wheels
Install new interior accessories
Remove rust and replace any corroded components
Add exterior accessories like an aftermarket grill or custom hood
Personalize with simple custom paint techniques or pinstripes
Auto enthusiasts can access the complete list with photos and details online now at autoMedia.com –10 Affordable Fix-Ups to Refresh Your Older Car.
About autoMedia.com: The auto website was launched in September 2000 by a team of automotive editorial, design, and publishing professionals, with the goal to be the premier provider of quality automotive content on and for the Web. Today it features over 92,500 pages of original articles, including over 2,500 features researched and written by leading automotive experts, covering new and used car buying, new vehicle previews, road test reviews, car care maintenance, professional driving advice, and technology. Automotive enthusiasts and new car shoppers can read about the latest industry news, pricing, rebates and incentives, view photo galleries and research details on all makes and models. For more information visit autoMedia.com.