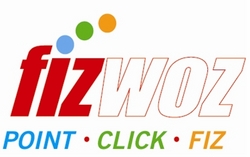 "While many broadcasters want folks to send in their pictures and video for free, we think, for that special piece of newsworthy content, creators should get paid for their work." -Brian Banmiller, Fizwoz Chairman/Broadcast News Veteran
San Francisco, CA (PRWEB) April 20, 2010
After being live for only 3 months, Fizwoz.com has just registered its 15,000th user, known as "fizers", and is growing rapidly.
Fizwoz.com™ is the first and only online auction site that allows you to make money off pictures and videos you take with your cell phone! Fizwoz connects "photographers" (consumers) not just with thousands of individuals, but with more than 45,000 media professionals worldwide. Within seconds of your image being captured, professional organizations can start bidding on your content. TV networks, newspapers, magazines and blogs are competing to see who can be first to use the images, so don't just give your content away, make money off it.
There are several fizwoz categories including: breaking news, sports, entertainment, public figures, and weather. Some recent examples of photos that have been sold on fizwoz include: celebrity chef Wolfgang Puck, singer Rihanna, a prototype never-seen before BMW and a Hawaiian sunset shot.
Founded by entrepreneurs Andy Sheldon and Ian Smith, fizwoz also allows media companies to direct the effort of "fizers" by posting specific image requests in the fizwoz assignment desk. "Fizwoz Assignment Desk is a terrific tool for media companies," says Steve Smedberg, senior vice president of marketing and product development at Weather Central.
Broadcast news veteran and network radio reporter Brian Banmiller is Chairman of fizwoz.com. Banmiller says consumers don't have to just give away their content for free. "We think for that special piece of newsworthy content, creators should get paid for their work."
For more information, visit http://www.fizwoz.com. Sign up and start making money on your content.
Point, click, fiz… it's that easy!
###