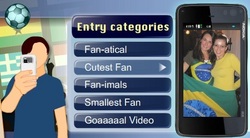 "We are delighted to launch our new SocialEyes platform around the World Cup." - Andy Sheldon, fizwoz CEO/Founder
San Francisco, CA (PRWEB) June 10, 2010
Fizwoz, the rapidly growing online marketplace for cell phone captured photos and videos, is excited to announce "Football Fever", and the release of its SocialEyes photo and video contest platform. SocialEyes makes it easy for brands to create, launch and manage social network-based voting contests for photos and video taken on mobile phones.
Powered by SocialEyes, the fizwoz "Football Fever" World Cup contest includes a grand prize of $5,000, plus N900 smart phones contributed by Nokia for other category prizes. The contest is free to enter through the mobile fizwoz application.
Contestants submit their images to the contest, then encourage the members of their social networks to vote for their entry. Targeted at media companies and major brands, SocialEyes provides a mobile phone submission process that verifies images are original and the copyright is owned by the contestant. A password protected viewing gallery allows photo editors to approve images and eliminates inappropriate images from being posted to their website.
Contestants take a photo with their mobile phone and enter the "Football Fever" World Cup contest in one of five categories using the free fizwoz mobile application. Once their entry has been approved, contestants are each given a dedicated landing page showing their image or video and providing social sharing tools such as: gmail or Yahoo mail address books and links to Twitter, Facebook, Myspace and several other social networking tools. The contestant with the most votes wins.
"We are delighted to launch our new SocialEyes platform around the World Cup. With fizers in 97 countries, it gives us a great opportunity to combine an innovation between social sharing and image contests," says Andy Sheldon, CEO of fizwoz.
Fizwoz officially announced the "Football Fever" World Cup contest on June 10th, live on a segment on ABC-7's "View from the Bay".
To learn more about "Football Fever" and to download the free fizwoz mobile phone app, go to http://www.fizwoz.com/footballfever starting at 7p.m. EST, June 10th.
About fizwoz:
With more than 30,000 registered users in 97 countries, fizwoz.com™ is the first and only online auction site that allows you to make money off pictures and videos you take with your cell phone! Fizwoz connects "photographers" (consumers) with more than 45,000 media professionals worldwide. Within seconds of your image being captured, professional organizations can start bidding on your content. TV networks, newspapers, magazines and blogs are competing to see who can be first to use the images, so don't just give your content away, make money off it. There are several fizwoz categories including: breaking news, sports, entertainment, public figures, and weather.
Founded by entrepreneurs Andy Sheldon and Ian Smith, fizwoz also provides media companies with a crowd-sourced photo and video capture service where they direct the effort of "fizers", by posting specific image requests in the fizwoz assignment desk.
# # #