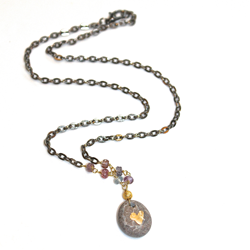 Our River Rock Necklace is a fun, everyday piece that can easily be dressed up or down.
Washington, D.C. (PRWEB) March 31, 2014
FizzCandy Jewelry (http://www.fizzcandy.com), in association with The Artisan Group®, will showcase its Spring 2014 Gem*Stones Collection at GBK's Luxury Celebrity Gift Lounge in Honor of the 2014 MTV Movie Awards Nominees & Presenters, taking place April 11-12 at an exclusive location in Beverly Hills, California. FizzCandy will have on display its Natural Geode Wrap Necklace, Slag Pebble Pendant and Fossilized Pebble Bracelets and will gift its River Rock Necklace.
Payton Bartos, the teenager who designs FizzCandy's creations, individually handcrafted the collection with help from her mother, Mila. The Natural Geode Wrap Necklace being displayed features Ethiopian opals in white and black, grey pearls, sapphires, Herkimer diamonds and Labradorite (retail $200.00). The Slag Pebble Pendant has a cutout heart and fossil pebble on a gunmetal chain (retail price $42.00). The unisex Fossilized pebble bracelet has a Portuguese Cork Band (retail price $45.00).
The River Rock Necklace being gifted to the attendees has a natural beach pebble focal from the shores of Lake Michigan, affixed with a tiny gold heart. The 18-inch chain is gunmetal with blue and purple spinel and gold vermeil accents.
According to Payton Bartos, the River Rock Necklace was selected as gift because of its unique, handcrafted vibe, eco-friendly/upcycled elements and on-trend mixed metals. "The natural stone is really interesting and becomes even more so when contrasted with the gemstones," she notes. "This is a fun, everyday piece that can easily be dressed up or down." The necklace is presented in a miniature box, tucked inside a custom brightly colored fabric bag with the FizzCandy logo.
The River Rock Necklace is available to purchase online at fizzcandy.com, along with other pieces from the Collection.
In addition to participating in the MTV Movie Awards Gift Lounge, FizzCandy will have selections from its Gem*stones Collection included in The Artisan Group's 2014 Earth Day Gift Bag, which will be delivered to some of Hollywood's most high-profile, environmentally conscious celebrities, including Jessica Alba, Emma Watson, Edward Norton, Adrian Grenier, Will.i.am, Robert Redford, Leonardo DiCaprio, Drew Barrymore, Woody Harrelson, Jessica Chastain, Anne Hathaway and many others.
FizzCandy Jewelry has been seen on Season 5 of the CW Network's "The Vampire Diaries" and was showcased on display and included in The Artisan Group® celebrity swag bags at GBK's Gift Lounge for the 2013 Golden Globe Awards.
FizzCandy brings a fresh combination of style perspective from a mother/daughter team. Its jewelry designs are created using the highest quality, thoughtfully sourced components. Says Mila, "We use high quality gemstones and are always looking for rare and beautiful finds. We also like combining earthy and found items with sparkling gemstones like our pebble necklaces, geode necklaces, stalactite necklaces and druzy shell necklaces."
Watermelon tourmaline, opal jewelry, druzy shell necklaces and stalactite necklaces are all customer favorites.
To learn more about FizzCandy Jewelry and its participation in GBK's MTV Movie Awards Gift Lounge, contact Mila Bartos by email. Follow the company on Facebook (@FizzCandy), Twitter (@fizzcandy) and Instagram (@fizzcandyjewelry). To learn more about The Artisan Group, visit theartisangroup.org.
ABOUT FIZZCANDY JEWELRY
Washington, D.C. based FizzCandy Jewelry (http://www.fizzcandy.com) is the home for the handcrafted jewelry designs of mother/daughter team Mila and Payton Bartos. Each piece of FizzCandy Jewelry is individually designed and handcrafted to order by Mila and Payton themselves. FizzCandy Jewelry strives for excellent craftsmanship and customer service.
Payton is an accomplished softball player and a high school student; she brings her discerning eye to all of FizzCandy's jewelry creations. She is as comfortable drawing as making jewelry and she always has a new project in mind. She is learning a lot about being a business owner and all of the work that it takes to do it well. She loves chai lattes and macaroni and cheese.
Mila is a closet entrepreneur and designer. She likes to source unique and special gemstones from around the globe. She helps Payton in both the studio and with the marketing duties of FizzCandy. In her free time, Mila is a lawyer. She loves chocolate chip cookies and coffee.
FizzCandy Jewelry is a proud member of The Artisan Group®.