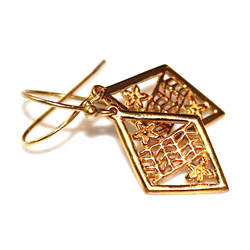 We wanted to use rustic materials, mixed metals and gemstones for luxurious pieces that could be worn alone or stacked together.
Washington, D.C. (PRWEB) January 02, 2017
FizzCandy Jewelry (http://www.fizzcandy.com), in association with The Artisan Group®, will participate in GBK's invitation-only luxury celebrity gift lounge honoring the nominees and presenters for the 2017 Golden Globes. The gift lounge takes place on January 6-7, 2017 at an exclusive location in Beverly Hills, California.
The handcrafted jewelry company will gift celebrities and select members of the press stopping by The Artisan Group exhibit a pair of its Gold Diamond Filigree Earrings ($58.00 at FizzCandyJewelry.etsy.com). The earrings were designed by FizzCandy co-founder Payton Bartos specifically for the Golden Globes.
She says, "I designed these earrings to have a classic yet slightly bohemian feel, which is reflected in the shape and the cut outs. Because the details in the earrings are so fine, the wearer can style them as a statement or use them to compliment other pieces."
Recipients will find their Gold Diamond Filigree earrings thoughtfully wrapped in FizzCandy's signature packaging and tucked inside The Artisan Group's iconic black swag bag.
On display will be two statement necklaces and five rings featuring agate, Labradorite, geodes, stalactites and quartz stones. "We selected these pieces for display as they represent the on-trend style of mixed metals and natural raw gemstones combined to create unique statement pieces," said FizzCandy co-founder Mila Bartos. "We wanted to use rustic materials, mixed metals and gemstones for luxurious pieces that could be worn alone or stacked together." Although the display pieces are one-of-a-kind, similar items can be found at FizzCandy.etsy.com, including this Labradorite and Tunduru Sapphire Statement Necklace.
With its mother-daughter dynamic, FizzCandy Jewelry brings a unique viewpoint to the marketplace. All jewelry is handcrafted to order using the highest quality, thoughtfully-sourced components. The pair enjoys the search for rare and beautiful finds. They count agates, geodes, stalactites, Druzy quartz and more recently Larimar, among their favorite materials to work with.
For winter 2017, Mila notes the popularity of the company's raw hammered gemstones in both rings and prong set earrings. She adds, "Our stalactite and raw opal rings are also very popular and our large baroque and other fancy pearls in unusual shapes and colors are always best sellers."
Mila and Payton Bartos are known for their handcrafted jewelry that marries natural elements and polished gemstones. FizzCandy Jewelry has been hand-selected by top costume designers in the entertainment industry and worn by various actors and actresses on more than a dozen television shows and movies, including "UnREAL" on The Lifetime Network, "The Vampire Diaries" on The CW, "Cedar Cove" on The Hallmark Channel, "Baby Daddy" on Freeform, and "Chasing Life" on ABC. Its Gold Leaf Globe Necklace was featured as a "Daily Delicious" on Bethany Joy Lenz's lifestyle blog, WishYouWereHereLife.com.
The company's jewelry has been showcased on display and included in The Artisan Group celebrity swag bags at GBK's Luxury Celebrity Gift Lounges for the 2014-2016 Golden Globes, the 2014-2015 MTV Movie Awards and their 2016 event honoring Primetime Television.
Selections from the GemStones Collection were included in The Artisan Group's 2014 Earth Day Gift Bag, which was delivered to some of Hollywood's most high-profile, environmentally-conscious celebrities, including Jessica Alba, Emma Watson, Edward Norton, Adrian Grenier, Will.i.am, Robert Redford, Leonardo DiCaprio, Drew Barrymore, Woody Harrelson, Jessica Chastain, Anne Hathaway and many others.
FizzCandy Jewelry was established in 2012. The company's designs are available to purchase on Etsy and Handmade at Amazon.
To learn more about FizzCandy Jewelry and its participation in GBK's 2017 Celebrity Gift Lounge for the 2017 Golden Globes, contact Mila Bartos by email. Follow the company on Facebook (@FizzCandy), Pinterest (@mila_bartos), Twitter (@fizzcandy) and Instagram (@fizzcandyjewelry). To learn more about The Artisan Group, visit theartisangroup.org.
ABOUT FIZZCANDY JEWELRY
Washington, D.C. based FizzCandy Jewelry (http://www.fizzcandy.com) is the home of the handcrafted jewelry designs of mother/daughter team Mila and Payton Bartos. Each piece of FizzCandy jewelry is individually designed and handcrafted to order by Mila and Payton themselves. FizzCandy Jewelry strives for excellent craftsmanship and customer service.
Payton is an accomplished softball player and a high school senior. She brings her discerning eye to all of FizzCandy's jewelry creations. She is an artist who works in various mediums including drawing, painting and photography.
Mila is a closet entrepreneur and designer. She likes to source unique and special gemstones from around the globe. She works with Payton to design FizzCandy jewelry designs and handles all marketing for the company. In her free time, Mila is a lawyer.
FizzCandy Jewelry is a proud member of The Artisan Group®.
ABOUT THE ARTISAN GROUP
The Artisan Group® (http://www.theartisangroup.org) is a premier entertainment marketing group dedicated to representing small business artisans at the best celebrity gift lounges and press events. The organization provides a collective sampling of handcrafted products to celebrities and members of the press at top luxury gift lounges such as those leading up to The Academy Awards, The Golden Globes, The MTV Movie Awards and The Primetime Emmys.
The Artisan Group also coordinates product placement of its member's handcrafted products on such hit television shows as Empire, Scandal, The Voice, How To Get Away With Murder, The Vampire Diaries, Days of Our Lives, The Young & The Restless, Modern Family, Jane The Virgin and Law & Order: SVU, among others. Membership in The Artisan Group is juried and by invitation only.
For press inquiries regarding The Artisan Group, please visit theartisangroup.org or email press[at]theartisangroup.org.