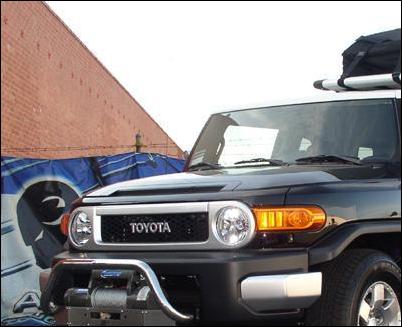 stainless sport bar that can hold up to two 8
Harbor City CA (PRWEB) October 26, 2006
With the popularity of the Toyota FJ Crusier Aries Off-road will introduce, at the 2006 Sema Show, their new winch carrier system that has been designed specifically for the FJ Crusier.
Jeff Perez, President of Aries Offroad, stated it is such a revolutionary concept due to its simplicity and ease of install. Also, it is much lighter and less bulky than those full replacement steel winch bumpers; "it's even a better winch system than I envisioned".
Aries engineering and design team worked overtime with the FJ Crusier and the results are truly special. Not only does the system except the Ramsey, Mile Marker and warn light to medium winches, it also acts as a functional light bar. It includes a removable 2" stainless sport bar that can hold up to two 8" diameter lights. The winch system is a major departure from many winch manufacturers and front end replacement suppliers that are selling winch systems adapted from other platforms," further stated Jeff Perez.
Aries has created a huge buzz with companies worldwide, and has many appointments set for their new product lines at the Sema Show. Based on the information that was released to Toyota, and its dealer network, the majority of these are about the new Retriever Sport winch system http://www.ariesoffroad.com and Cargo Management system which was designed with the FJ Crusier in mind. Both lines are now being engineered for the Hummer H3 and other vehicles including the 2007 Jeep Wrangler.
The Aries design team was brought together by Jeff Perez some 7 months ago and each member of the team was given a card that on the front had Toyota FJ Crusier winch system written down.
On the back of the card there were four goals.
1.Design the best winch system we can that fits the design and lines of the FJ
2.Make the winch carrier system functional that works with more than one winch
3.Design the winch system so no major structure is compromised or heavy modification is required to the FJ Cruiser
4.Design an affordable winch system without compromising quality
The design team came up with a surprise for Jeff when they not only hit all four items with this revolutionary design but gave him a built in combo bully and light bar which adds to the esthetics of the winch carrier.
Jeff further stated that the production team also has done an outstanding job not only with prototyping but the finial production units. They are truly spectacular because they look, function, beyond our expectations.
The Retriever Sport will be unveiled at the 2006 Sema Show in Las Vegas at booth #31357, for the auto industry to view. Further information will be provided at the Show.
The Sema FJ Crusier in Black on Black with Brushed Silver Racing Stripes designed by Jeff Merzees, along with ALSA Corporation. It includes 20" inch Moto Metal Wheels, 33" Toyo Tires, along with a 2" Lift from Rancho Suspension and new DOT approved Starr™ HID lights from SIG Automotive Concepts.
The Sema FJ Crusier is also equipped with the following:
PIAA Off-road,Lights,Webasto,DoubleSunroof,Katzin Interior Leather,OPTIMA Batteries™,K&N Intake System,Gibson Exhaust
Ramsey Winch 9500™ Aries Products,-New Retriever Sport™,-New Deluxe Oval Tubes New Interior Billet Grab Handles,-New Taillight Guards
Locking Stainless- Painted Tire Cover,-New FJ Aluminum Cargo Management- Cross Bars, Cargo Rack, Cargo Bag, Hitch Basket,- New POD system that is both adapted to the FJ sound system and acts as a wireless phone and plays an IPOD.
This new winch system should attract a great deal attention in the coming months along with the Aries Sema FJ Crusier which is black on black.
###