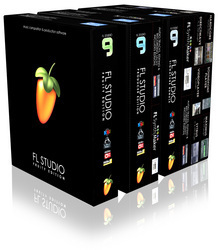 (Vocus) July 20, 2010
Image-Line Software, leading developer of audio production software, announces FL Studio 9.5 beta, the latest version of it's music creation & production program. FL Studio 9.5 beta incorporates a number of enhancements and new features based on ongoing development and customer input based on FL Studio 9 experiences.
Notable changes & improvements:

Larger mixer view & waveform metering - The Mixer View options include 'Wide tracks' and 'Waveforms'.
Individually sizable Playlist tracks - Any or all Playlist tracks can now be resized by dragging on the divider between the name areas. Individual tracks can also be locked at a desired size.
Live Playlist marker types - Playlist markers can be set to Loop, Pause or Skip for innovative live performances.
64 bit plugin support - The Wrapper now automatically detects 64 bit plugins and opens them in 64 Bit 'Bridged' mode.
Improved memory management - Two changes have been made to lower demands on FL Studio's memory allocation.
1. 64 & 32 Bit VST plugins can be opened in 'Bridged' mode that runs the plugin and its memory allocation in a separate process.
2. Audio Clips & Sampler Channels Keep on disk option now opens the sample in a separate memory allocation.

Improved audio options - ASIO: 'Mix in bufferswitch' and 'Triple buffer' may improve performance with some ASIO drivers. ASIO/DirectSound: Revised 'Playback tracking' options to help with alignment of visual feedback with audio where problems exist.
Fully automatic PDC - The default for new projects, automatic Plugin Delay Compensation updates the PDC settings when changes are detected.
Piano roll transport control - Editing in the Piano roll while in Song mode will now move the Playlist transport in sync with the Piano roll.
Piano roll - Rounded notes view.
Ctrl+B - Duplicate selection, zoom range or all (no selection) in the Playlist and Piano roll.
Existing customers can apply to download and try FL Studio to 9.5, free. See 'My Account' for details
To see a video of the additions and changes to FL Studio 9.5 visit the Image-Line News blog at - http://www.image-line.com/documents/news.php?entry_id=1278985950
FL Studio 9.1 is still available for purchase online (via download) or in boxed form through traditional music & software outlets. All download purchasers enjoy Lifetime Free Updates and can upgrade from any version of FL Studio to FL Studio 9.1 for free.
Boxed customers who purchased FL Studio 8 can upgrade to FL Studio 9.1 for free. Customers who purchased FL Studio 7 or lower can make a once-only payment of $39 USD and gain Lifetime Free Update status, then download FL Studio 9. FL Studio 10 and all higher versions (when available) will be free.
FL Studio 9 Boxes purchased in stores can be upgraded to all sub-versions of FL Studio 9 and later FL Studio 10 (when it is released) free of charge. No need to worry your FL Studio 9 box is out of date. FL Studio 9 boxes also include a Virtual Cash Card that can be used to register online and to receive $49 USD virtual cash. The v-cash can be spent on Lifetime Free Updates or put toward other Image-Line download-products. Any FL Studio 9 box can be upgraded to FL Studio 9.1 (and to FL Studio 10, when available) free via program download.
Editions and prices:
Express Edition (US $ 49, download only)
Fruity Edition (US $ 99 download / US $ 139 boxed)
Producer Edition (US $ 199 download / US $ 269 boxed)
Signature Edition (US $ 299 download /US $ 399 boxed).
About FL Studio:
FL Studio is a fully featured, open-architecture music creation and production environment for PC & Intel Macs running Bootcamp. No extra software is required to produce any style of music, as the complete set of instruments and studio tools is included in the package. The user can easily create songs, backing tracks, loops and sizzling beats. Completed songs can be saved to WAV, MP3, MIDI, .ZIP or native project formats (.FLP).
Additional information on FL Studio is available at http://www.flstudio.com
About Image Line Software:
Established in 1994, Image Line Software provides high quality music applications to the computer-based music community and is well known for its leading digital audio workstation [FL Studio (formerly FruityLoops), high quality synthesizers including Sytrus, PoiZone,Toxic Biohazard, Morphine, Ogun and Sawer, a mix of innovative Effect plugins like Maximus and Hardcore and range of sample libraries used in their multi-sampler plugins DirectWave and Soundfont Player. In May 2007 Image-Line Software released its acclaimed DJ mixing software application [Deckadance. In addition to its audio software, Image Line Software develops and distributes the web site building application, [EZGenerator.
For more information, please contact:
Scott Fisher, Communications Manager
Image-Line Software
E-mail: press [AT] image-line [DOT] com
http://www.image-line.com/documents/press.php
###