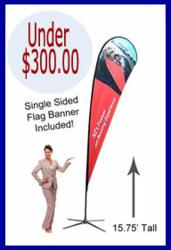 Flag Banners Lower Prices and Turn-around Time is Just a Few Days!
Fort Myers, FL (PRWEB) March 16, 2012
Today Anything Display trade show supplier announced an increase in selection and a decrease in their pricing on the popular selling flag banners.
John Webber Director of Sales at Anything Display says, "Since the demand in the marketplace for flag banners has exploded we've been busy trying to serve the increased demand and we've succeeded."
The new "demand in the marketplace" for flag banners has Anything Display now offering flag banners at the best prices they've ever offered.
An 11 Foot Flag Banner with Stand under $200.00 and the 15 Foot printed flag banner (shown right) and stand under $300.00.
John concluded, "The increase demand has enabled us to slash prices and increase our turn-around time to just a few days. We hope to reach a larger audience online with this new value offering."
To get the full spectrum of selections, the various sizes and shapes and the low costs for each visit their website.
About Anything Display - A privatly owned company based in Fort Myers Florida - Anything Display is an online supplier to the tradeshow industry - product offerings include Trade Show Banner Displays, Booths, Trade Show Hanging Banners, Trade Show Accessories, and much more ... Serving clients in all 50 states and Canada across multiple industries. For more information visit http://www.anythingdisplay.com or call 239-433-9738
###