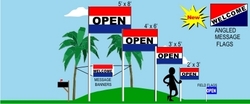 Acworth, GA (PRWEB) June 17, 2008 –-
The Flag Company, Inc. announced today that it is introducing a new, extensive list of Message Flags to accommodate virtually any needs a business may have in attracting potential new customers within eyeshot of the store.
Message Flags offer significant advantages over traditional signs or banners, and in a more customer-service friendly way than the off-putting "Year End Blowout" or other overused clichés. Written on a bold tri-color (red, white and blue striped) flag, conveyed message will sway in the wind to grab potential customers' attention.
Traditionally, flags have only flown horizontally, but with The Flag Company's expanded product lines, flags can now be vertical, angled or bowflagged. Message Banners are even available to avoid using flagpoles. Flags are also offered in Super or Economy sizes for those who want it bigger or smaller to fit their individual needs.
In addition, The Flag Company has upgraded its facilities so it can find an appropriate flag for any business. The Flag Company went from carrying four dozen messages in stock to carrying more than 300 different messages on their flags. Stocking flags in the warehouse makes them more affordable, as well as making them available to for immediate shipment.
These messages can range from the traditional "Welcome" or "Open" to Designer Flags like "Barber Shop" or "Coffee" or "Café," all with their own personal design to attract customers.
Want a unique, personalized flag? The Flag Company can do that too, still at a cost significantly lower than the worn and tired traditional sign.
Most Message Flags stocked in the warehouse range from $15 - $28 without any installation fee or per-square-foot charge like signs or banners. And, of course, The Flag Company still offers individual state, American and world flags to show off your patriotism.
As an added convenience, The Flag Company, Inc. offers several flagpole kits as options in a variety of sizes, styles and prices. The Message Flags work well with either the 9-foot aluminum flagpole kit or the 10-foot aluminum flagpole kit. Everything is included: flagpole ornament, 2 aluminum flagpole sections, ground socket and clips to attach the flag. There is even a new 9-foot rotating aluminum flagpole kit. These kits are as portable as it gets: Simply lift the flagpole out of the ground socket and walk away. This feature allows companies and citizens to use the Message Flags again at another time and/or another location.
For additional information on Message Flags and the hundreds of other flags offered by The Flag Company, Inc., visit the website, http://www.flagco.com.
About The Flag Company, Inc.:
The Flag Company, Inc. is a manufacturer and distributor of flagpoles and flags to all segments of the business community and to individuals. Located in a suburb of Atlanta, The Flag Company, Inc. resume includes flagpoles at Turner Field, Hartsfield-Jackson International Airport and the 1996 Centennial Olympic Games.
###