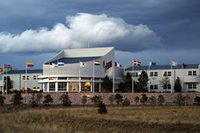 It marks the grand entrance of the building while sending a strong message of support for America
Denver, Colorado (PRWEB) October 22, 2009
What emerged from the dust of the September 11th terrorist attack of our nation was a renewed American spirit. A freedom and security, once taken for granted, was now challenged. Americans answered the challenge loud and clear. A united citizenry made up of all ages, colors and backgrounds renewed its public display of affection for its country. What words could not express, a simple yet powerful act of flying "Old Glory" has helped heal and reenergize a nation.
For Gene Tomczak, a career U.S. Air Force veteran living in Denver, flying America's colors was not only a passion, it became a successful family business. In 1986, Gene and his wife Paulette started Show Your Colors Flag Company out of their home with an initial investment of $500. Today, their son Jeff, also a USAF veteran (http://www.military.com) operates what has become an international business with 15 permanent employees at the Denver headquarters. With great pride and traditional family values, Show Your Colors Flag Company has established itself as America's leader in offering a complete line of U.S. flags, custom flags, logo flags, banners, directional signs, pennants and the flag poles on which to fly them.
A spectacular example of the use of flags in building design is The World Prayer Center (http://theworldprayercenter.org/) in Colorado Springs. The design challenge in creating this global center for prayer and ministerial work was to authenticate the facility's international theme. Nothing would accomplish this better than a dramatic display of 54 separate flagpoles, encircling the ultra modern structure, all flying flags from different nations. Show Your Colors Flag Company was ready, willing and able to make this design concept a reality. Jeff regards this installation as one of the company's milestones and among its proudest achievements.
Corporate accounts make up the vast majority of orders for the business. Show Your Colors is the exclusive supplier nationwide for Taco Bell, Pizza Hut and KFC. Prestigious homebuilders such as DR Horton, KB Home, as well as Shea Homes call upon the Tomczaks for their flag and banner needs as well. What was once considered an afterthought, the location of the flagpole today becomes an integral part of the overall building design. "The flag location has become a focal point of the structure and even acts as a signature to the building design," says current president Jeff Tomczak. "It marks the grand entrance of the building while sending a strong message of support for America," he adds.
Designers of professional sports stadiums have learned that the location of the American flag contributes to the identity of the structure. It is no longer an afterthought, but instead, becomes a significant focal point for all those in attendance for the event. For this reason, great care is taken to select the correct size, mounting and presentation of the flag and banner campaign. With the recent boom in building newer and more modern stadiums for professional sporting events, Show Your Colors Flag Company is the industry's MVP. When the neighboring Denver Broncos and Colorado Rockies unveiled plans for INVESCO Field at Mile High (http://www.invescofieldatmilehigh.com/), there was no question who to call upon to provide the best in quality, service and installation for their flag and banner needs.
As America rekindles its love affair with "Old Glory," and Americans reacquaint themselves with the rights and privileges associated with flying our nation's flag, there is a family business in Denver where the passion never waned. The Tomczak family has been reminding us of our proud heritage for three generations. This reminder is observed flying from the buildings of our government institutions, in the places where Americans work and play, and now more than ever, from the front porches where Americans live. America is again proud of its identity -- and Show Your Colors Flag Company is where America finds it.
###