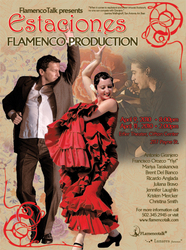 Granjero's blistering footwork is show-stopping. His feet move with such astounding speed that they virtually freeze in space, as we hear the lightning-fast thrum of his heels on the floor
Louisville, KY (PRWEB) February 16, 2010
FlamencoTalk will celebrate the seasons of the soul with the premiere of its all-new production "Estaciones" (Seasons) at the Clifton Center's Eifler Theater on Friday, April 9, 2010. The third major project for the Louisville-based flamenco company, the production is a culmination of a year-long collaboration with Antonio Granjero, one of world's celebrated flamenco artists. Conceived and choreographed by Granjero, with musical direction by Barcelona native Francisco Orozco "Yiyi", the show promises to deliver on a level never before seen in Kentucky. A spiritual journey that takes us from the nostalgia and exasperation of Autumn to the rejuvenation of Spring, "Estaciones" explores the emotional landscape of our inner world through four familiar motifs, bringing into focus internal struggles, unbridled emotions and contrasting moods that color our lives.
In addition to Jerez-born Granjero, who will co-direct and star in the show, the production will feature an international cast of musicians and dancers, including gypsy singer-percussionist Francisco Orozco "Yiyi", dancer Mariya Tarakanova, and guitarists Brent Del Bianco and Ricardo Anglada.
Estaciones (Seasons), Flamenco Production
Friday, April 9, 2010, 8pm
Sunday, April 11, 2010, 2pm
Eifler Theater, Clifton Center, 2117 Payne St., Louisville, KY 40206
Tickets: $25 in advance/$30 day of show, general admission, purchase tickets
Discounts for groups, seniors, and students available, contact 502.345.2945 for details.
"(Antonio Granjero)...an exceptional dancer with incredible speed, precision, and strength like no other."
"A powerhouse, don't miss this performer you'll be missing the best of Flamenco."
"Granjero's blistering footwork is show-stopping. His feet move with such astounding speed that they virtually freeze in space, as we hear the lightning-fast thrum of his heels on the floor," said Gus Jr Solomons, Dance Magazine.
Maestro Granjero is one of the world's most respected and electrifying flamenco artists, who has performed across Europe, the United States and Japan, was a fixture of Spanish television and was the lead dancer in a special program for Queen Elizabeth II. He had the honor of performing at some of the most prestigious flamenco events in the world, including the Bienal de Sevilla and Festival de Jerez, accompanying Cañizares' Company. As part of his recent European tour Antonio has debuted a new show "Vaya con Dios" at the Bienal de Flamenco de Sevilla 2008. Granjero has performed in theatres throughout Israel, Italy, England, Switzerland, France, and Japan, was featured as a lead dancer in the International dance festivals of Bordeaux (France) and Todi (Italy), and had the opportunity to share the stage with such flamenco legends as Antonio Canales and Gerardo Nuñez. He was invited to represent Jerez during the International Exposition in Seville (EXPO 92), where he performed Alegrías with Domingo Ortega to critical acclaim by several national newspapers, including El Pais and ABC.
"It became clear that in accompanying the solo dances and performing sections of pure music, (Yiyi's) skills were exemplary. With only a splash cymbal, oversized conga and a cajón … his powerful, bone-chilling voice and incredibly fast hands riveted the audience… his playing and singing were nothing short of electrifying."
Francisco Javier Orozco "Yiyi" is a profoundly emotional and sensitive singer and amazing percussionist born in Barcelona, Spain. He has toured the world with the leading flamenco dancers and companies and is considered one of the highly sought after young flamenco singers on the scene today. Introduced to flamenco rhythms at the tender age of four by his father, flamenco singer Joselón de Jerez, Yiyi was a "child prodigy" of percussion. He began his professional career at the young age of twelve and by the age of seventeen Yiyi has released his first CD and began his first German tour with the company Flamenco Rubio. Since then he has toured throughout Europe, Japan, Taiwan, South America, the United States, and has performed at the world-renowned flamenco tablao Casa Patas in Madrid. Yiyi has performed with Compañia Flamenca Alhama, María Benitez' Teatro Flamenco, Domingo Ortega, Jose Greco II, Alejandro Granados, Serranito, Yolanda Heredia, and many others. Critics worldwide have touted Yiyi's performances as "fiery" and "riveting", his percussion techniques executed with "machine-gun speed" that possesses and "casts a spell".
FlamencoTalk is a non-profit arts organization based in Louisville, KY with the mission to preserve and promote Hispanic culture through the art form of flamenco. Founded in 2007 with support from its directors Mariya Tarakanova and Brent Del Bianco, FlamencoTalk provides resources and services ranging from dance and music classes to educational lecture demonstrations to full-scale theater performances featuring international flamenco stars. One of the most comprehensive flamenco resources on the web, http://www.flamencotalk.com, serves over 70,000 pages of flamenco information to visitors from 133 countries each month!
Sponsorship for this program is provided in part by Lunares Flamenco.
Lunares is a young Brazil-based company that produces flamenco costumes and practice dancewear for companies, schools and groups worldwide. The brand incorporates flamenco style to day-to-day fashion and brings a modern flair to traditional flamenco designs. Lunares flamenco, porque la vida se baila.
###