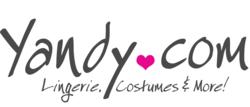 PHOENIX, Ariz. (PRWEB) September 20, 2012
Whether it is sneaking off to that favorite speak easy or nodding to the 20's at that upcoming Halloween part,flapper costumes are all the rage at Yandy.com this Halloween season. Yandy.com, online retailer of sexy Halloween costumes and lingerie, has always seen an interest in flapper costumes and this 2012 Halloween season is no exception.
Yandy offers more than 30 unique and sexy flapper costumes for shoppers to divulge their sinful side in. Ranging in colors from red to black to hot pink, Yandy's flapper costumes feature all of the essentials like layered fringe, cigarette holders and be-sequined head pieces to finish off the look.
One of Yandy's most popular flapper costumes is a more traditional black flapper dress with black layered fringe all the way around, a long strand of faux pearls and a matching head band with a feather plume detail. Another more eccentric choice is the neon pink, Gatsby Girl costume with a neon pink fringe and sequin mini dress, pink feather boa and sequin and feather head piece.
Whatever the direction, Yandy shoppers have so many options to choose from this Halloween if they are looking to don a flapper costume this year.
About Yandy.com
E-commerce is on the rise and Yandy.com is one of the largest online retailers of lingerie, sexy Halloween costumes, swimwear and clothing on the web. Founded in 2003, Yandy boasts more than 6,500 products always in stock at easily affordable prices. Yandy ensures that every customer will receive a safe, secure and private online shopping experience and is backed by COMODO online security and Google Checkout. Yandy is dedicated to customer service and only sells what is in stock which allows for quick, same day shipping. Offering the highest quality products at the most affordable prices in the market, Yandy has become a leader in ecommerce. Yandy works closely with all of the manufacturers they distribute for and hand select all of the items on the Web site to ensure customers have the largest and most diverse collection to choose from. In addition, the customer service team at Yandy is unrivaled. With attentive and helpful operators, should a question or problem arise, the customer service team at Yandy is always willing and able to assist. At Yandy, every customer can Be Sexy.
###