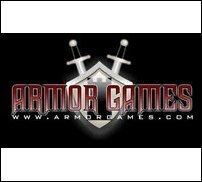 (PRWEB) April 4, 2007
Irvine, CA (PRWeb) April 3, 2007 – Armor Games is looking for new, innovative flash games and is calling on game developers to submit their entries to its latest contest, Armor Gaming Challenge #5. The contest, which runs through May 15, is awarding the top 10 games with substantial prize money.
"We're looking for new ideas in the gaming world," says Daniel McNeely of Armor Games, and we're willing to pay for it. Our mission is to protect the world from being bored. That means we have to be on the cutting edge by bringing people the most entertaining games out there."
The Armor Gaming contest rules are straight forward:
The game must be a new, unique flash game or a new sequel
Games must be completely original
Games may not use copyrighted material (i.e. Nintendo, Sony, Lord of the Rings, King Arthur, etc.)
Games may not use copyrighted music from any artist, group or soundtrack
Include the words "ArmorGames.com" in the pre-loader of the game along with a "Armor Games" intro animation. Intro animation can also be downloaded at: http://www.armorgames.com/images.html
Include a "Visit ArmorGames.com" or "Play more Games" link on the menu of the game. The link must open "ArmorGames.com" in a new window when clicked on. Also include a "Visit ArmorGames.com" or "Play more Games" on the "Game Over" menu
E-mail the link to the game on NewGrounds.com to contest (at) ArmorGames.com. Armor Games will keep track of the game name, author, NewGrounds score, and its current ranking in the contest. The game will then be judged for one week by the users of NewGrounds before the final score is locked in.
"The judging for Armor Gaming Challenge #5 will happen at NewGrounds.com, one of the largest flash portals on the web," says Daniel McNeely. "My hat's off to Tom Fulp, owner of NewGrounds, 'cause he has revolutionized flash games. NewGrounds visitors will pick the game winners by scoring the games on a scale of 1 to 5."
Prizes will be awarded June 10th by check or PayPal. The prizes are as follows:
1st place - $8,000
2nd place - $5,000
3rd place - $4,000
4th place - $3,000
5th place - $2,000
6th place - $1,000
7th through 10th places - $500 each
Additional prizes are also being awarded. If a game makes the front page of NewGrounds, the game developer will win $150. In addition, the top three games during the month of April will win $500. Miscellaneous prizes will be given to all entries that qualify, even if they don't make the top 10, so everyone has a chance to win.
Armor Game's staff is not allowed to submit entries to the Armor Gaming Challenge. All rights for submitted entries belong jointly to ArmorGames.com and the game's developer. ArmorGames reserves the right to submit these games to flash based websites. ArmorGames will never claim production credit on developers' games nor will they sell developers' games. Games submitted for prizes can still be entered in other contests as long as they remained unchanged and contain the Armor Games' logos and links.
About Armor Games
Armor Games is a professional, large-scaled website that has been promoting flash games and flash in general for over a year. The company is able to do so by running the Armor Gaming Challenge and sponsoring many games (over 100 games at the moment) by a variety of very good flash artists and game developers all over the internet. ArmorGames believes in letting the developer keep all of the rights to his/her work. "We never take credit over stuff we haven't made directly, and we put you, the flasher, right in the center." For more information, please check out http://www.armorgames.com/.
Contact:
Daniel McNeely
949-387-5009
daniel @ armorgames.com
###