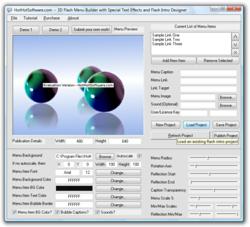 The 3D Flash Intro software from HotHotSoftware makes it really easy to make cool looking intros! Worked great for a client of mine! Thanks!
Los Angeles, California (PRWEB) February 08, 2013
Traditionally, website designers have had to use complex tools such as Macromedia Flash, Flex and other Adobe products to create good looking website intros. While the tools are very powerful, many times there is a steep learning curve. HotHotSoftware has released the 3D Flash Menu Builder, which makes it easy for novice designers to create powerful presentations and website intros.
The 3D Flash Menu builder allows users to accomplish the following. Users may easily create high quality 3D flash menu navigation systems, customize the look and feel of the menu navigation systems, making each site totally unique, include sound when users click on menu elements, customize the look and feel of menu captions, plus much more.
Professional web design companies utilize the HotHotSoftware 3D Flash Menu Builder, to speed up the development time, lower costs, all while making clients happy with the results. Interested web designers may find further details here: http://www.hothotsoftware.com/3d_flash_intro_maker_software/
About HotHotSoftware.com
HotHotSoftware is a company that specializes in developing various utilities to help speed up the development time, and increase productivity. Applications range from flash based applications, to Microsoft Excel, Word, and Access plugins, to utility applicaitons, and much more. For complete details, visit http://www.hothotsoftware.com/