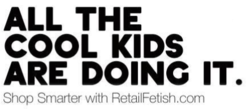 Accessories are so popular due to the variety offered on the site and customers constantly show more interested in accessories on the site.
Reston, VA (PRWEB) October 24, 2012
RetailFetish.com has a wide variety of flash sales on their website. They have fashion flash sales for men and women, they have travel flash sales, and they even have feeds from home flash sale sites. Nevertheless, the expert analysts at RetailFetish.com have found that about 25% of their visitors are more interested in flash sales related to accessories.
These accessories include watches, jewelry, hand bags, and other items that a person might add to their personal style. RetailFetish.com has accessory flash sale feeds coming in from great sites like JackThreads.com and Gilt.com, so its no wonder people are coming to check out fashion items. In fact, RetailFetish.com even has PLNDR flash sales listed on their website.
However, the fact that accessories are extremely popular on RetailFetish.com isn't just about the great feeds they are hosting. RetailFetish.com has recently seen a very large spike in social media traffic and has even added a "share" button to their website. People are constantly finding great accessories they'd like to buy and are pressing the "share" button to show their friends. While people can certainly do this with other types of flash sales, RetailFetish.com has found that people are more likely to share accessories than they are to share home decor items.
RetailFetish.com has also discovered that a flash sales website that lists clothing as well as accessories is always bound to have clothes shoppers look at accessories as well. Fashion lovers love to accessorize and flash sales are the perfect place to do so. After all, the shirt you buy might not fit quite right, but a nice watch or hand bag always will.
Fashion flash sale sites that do not offer accessories are really missing out on a big opportunity to help their visitors and to improve their own bottom line. The marketing team at RetailFetish.com is even pushing its aggregated sites to add even more accessories to their daily feeds. They are working to add more exclusive accessory deals and to provide even more value to the visitors of RetailFetish.com.
In addition to this, the team that oversees the daily deals email is also working to add in more great accessories. The accessories being added are all top quality and visitors will find that they can't get a better price on them anywhere else.
To see some of the accessories being offered on RetailFetish.com, visit their website, subscribe to their email list, and check their daily deals sections often.
###