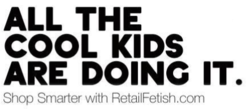 Home decor is becoming a popular part of the flash sale industry and we're dedicated to pulling those deals for our customers.
Washington, DC (PRWEB) October 17, 2012
RetailFetish.com is known for its great fashion flash sale deals. It features many daily deal feeds from top fashion retailers like PLDR, Jack Threads, Ideeli, Rue La La, and many other sites. In fact, it even features Gilt.com flash sale deals.
However, RetailFetish.com also has many home decor flash sales as well. Recently, RetailFetish.com has announced that they'll be working even harder to bring the best home decor flash sale deals to their site. When people visit the website, they will be able to find a great deal on a fashion flash sale as well as a home decor flash sale. This will save visitors time and money and will help RetailFetish.com provide even more value to their visitors.
There are other fashion flash sale websites that act as a home flash sale site, but these websites are usually very unorganized and hard to navigate. RetailFetish.com doesn't have this problem. The web development team at RetailFetish.com has created a website with easy-to-navigate categories for their visitors to use. This is great because it gives visitors the ability to click on the categories they want and to filter out the ones they don't want.
Although RetailFetish.com is going to be aggressive in finding new home decor feeds to pull from, it isn't going to sacrifice the quality of its website to do so. RetailFetish.com works hard to filter out poor performing sites and visitors need to know that they won't find a home flash sale site on RetailFetish.com that hasn't met the site's strict minimum requirements. Because of this, home decor flash sale sites will need to ensure that they keep both their website and their deals fresh. RetailFetish.com will quickly drop any flash sale site that sends expired deals into their feeds.
Visitors will also be able to take advantage of home decor flash sale deals within the daily emails as well. RetailFetish.com subscribers have been getting a great daily email full of fantastic fashion flash sale deals. With the implementation of a wide range of home decor flash sales, subscribers will now be able to get home fashion items sent to their inboxes as well.
Of course, this email will still be restricted to only one a day. RetailFetish.com knows how inconvenient a full inbox can be and works hard to reduce all of its great deals down to only one daily email for people to enjoy.
To find some great home decor deals for your house, please visit RetailFetish.com.