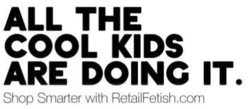 Some of the most popular flash sales are targeted towards mothers and their babies We're going to pull those deals into the site and start helping mothers save time and money.
Reston, Virginia (PRWEB) October 31, 2012
RetailFetish.com has been dramatically revamping its website to make it even more helpful for its readers. Increased categorization, daily emails, purges of poorly updated flash sale sites, and their often updated fashion blog all help RetailFetish.com visitors save time and money while remaining fashionable.
Recently, RetailFetish.com has decided to make life easier for new mothers. New mothers often have a tough time getting out to stores and therefore they often frequent flash sale sites on a regular basis. To help these mothers, RetailFetish.com has set up flash sales for women looking to buy both women's clothing as well as clothing for their babies.
Mothers can forget about sifting through dozens of emails each day to find the deals that apply to them. Women can simply check their RetailFetish.com email for the latest flash sale on items they want and need.
Signing up to RetailFetish.com's daily email isn't the only way mothers can save time and money through RetailFetish.com either. Many mothers have found that RetailFetish.com's categorization process saves them a lot of time in finding the deals they need. For instance, mothers looking for new home items can simply click on the home decor flash sales to find what they're searching for.
In addition to the increased categorization of RetailFetish.com, mothers will find that they can filter their search by store as well. These mothers can use RetailFetish.com as a single flash sale site so they don't have to search through all of the other flash sale sites separately. Searching through the deals on one site reduces redundancy and increases the chances that RetailFetish.com's visitors find the deal they are searching for.
Mothers who have been trapped inside for a while might also find RetailFetish.com's blog posts useful to them. These blog posts keep all women up-to-date on all of the latest trends. The fashion experts at RetailFetish.com explore and analyze new trends and tell their readers which ones are worth indulging in. Mothers who are unsure whether or not to buy into a new trend can quickly and easily find the answer within RetailFetish.com's blog.
Also, I'd be remiss not to mention that RetailFetish.com isn't just for mothers. Readers of all genders and ages have found the new RetailFetish.com features extremely useful to them. RetailFetish.com has seen a dramatic increase in traffic and the website is poised to welcome even greater numbers of visitors throughout the rest of the year.
To see how RetailFetish.com can help you find great deals on new fashions, please visit their website at RetailFetish.com.