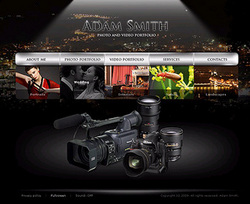 (PRWEB) April 28, 2009
More of EasyTemplates.com's affordable Flash website templates now come complete with an easy-to-edit photo gallery and/or video gallery. The Flash templates cater to an increasing demand for an easy and attractive way to present photos and videos on websites.
Like the hundreds of other Flash website templates available at EasyTemplates, the easy Video and Photo Gallery Templates are incredibly easy to modify without the need for any special software or skills.
Content can simply be typed and updated in an external text file using Notepad or any HTML editor, while a special, easy-to-use admin tool lets users upload, change and remove photos and videos.
With no limit to the number of images and videos the photo gallery and video gallery can hold, EasyTemplates Flash Photo Gallery and Flash Video Gallery Templates are ideal for artists, photographers and anyone else wanting to showcase their work.
Complete Flash websites with Photo Gallery and/or Video Gallery that people can easily customize range from US$79.99 to US$129.99. There are even sophisticated YouTube-like video-sharing website templates for US$199.
The Flash website templates are organized by themed categories so people can easily search and browse through the available themes on the EasyTemplates website and preview the web templates to find a suitable design. They can also try out the photo and video admin tool on the website.
EasyTemplates Video and Photo Gallery Websites come with easy to follow installation instructions, full customer support and a 100% guarantee that customers will get their site up and running.
EasyTemplates Flash templates are popular for their incredible ease of use. Absolutely anyone can browse the Flash websites, find a design they like, buy that Flash template and follow the instructions to customize their website.
Users DON'T need to have or use Adobe Flash or any other special kind of software to modify their template. Because all the content is stored in an external text file, users can simply use Notepad or any other text editor or HTML editor to edit their text, menu buttons, email forms, images and background music.
EasyTemplates Flash Photography Templates and Flash Video Templates also include a special photo and video administration tool where people can easily upload, change, remove and sort the photos and videos they want to display in their photo gallery or video gallery.
Even people with no web design skills will be able to customize their EasyTemplates Flash template and have a professional looking website with photo and/or video gallery and their own content up and running in 4-6 hours.
EasyTemplates Flash website templates also include a fully functional contact form and come complete with all source files including FLA and PSD files.
ABOUT EASYTEMPLATES:
EasyTemplates.com, one of the first websites selling Flash templates, is owned by Triple W Communications, an international Flash tool and online communications business established in 1999 and currently based in Australia.
To find out more about our easy Flash Website Templates, preview our designs and features and to check out the Photo & Video Galleries, go to http://www.easytemplates.com.
# # #