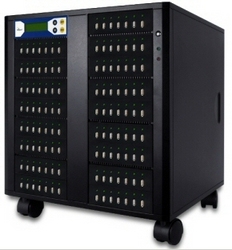 Our flash memory USB systems are quick on duplication jobs and easy to set-up which is our driving force in developing duplication systems for flash, CD, DVD and recordable Blu-ray
Old Saybrook, CT (PRWEB) March 27, 2009
CD Dimensions, a premier reseller and manufacturer of flash USB duplicators, DVD duplicator equipment, CD-R, DVD, recordable Blu-ray blanks and disc printers, announces the launch of its new 118 drive USB Duplicator. This new USB flash thumbdrive duplicator does not require a PC and is completely standalone. It supports all file formats, file size, and drive capacity. Data transfer rates are up to 600Mb per minute. This system allows anyone to create custom USB flash drives or promotional USB drives.
"Our new high capacity USB flash drive duplicators address the needs of our education, government and business marketing clients" said Steve Barnard, Senior Sales Executive at CD Dimensions, Inc. "Many education clients are looking for a way of updating student homework assignments, handouts and supplemental reading and math problems. Gone are the days of the mimeograph machine".
"Our flash memory USB systems are quick on duplication jobs and easy to set-up which is our driving force in developing duplication systems for flash, CD, DVD and recordable Blu-ray" added Jay Pasqualoni, President of CD Dimensions, Inc. "CD Dimensions is focused on the needs of our clients and providing the best solutions to their ever-changing needs in data distribution".
The CD Dimensions USB duplicators feature advanced asynchronous duplication which means no waiting and no interruption as each channel can independently load, unload, and copy. The systems additionally support synchronous mode jobs for small runs.
CD Dimensions USB Duplicators also feature user friendly 4-key control with LCD, high speed duplication and bit-by-bit Compare function to confirm successful copies. CD Dimensions complete family of USB Flash pendrive thumbdrive duplicators include 7, 11, 20, 34, 83 and the 118 flash drive duplicator.
About CD Dimensions:
Established in 1995, CD Dimensions, Inc, A value add technology reseller located in Old Saybrook, CT, is an authorized reseller for the leading manufacturers in the recordable Blu-ray, CD and DVD duplication, media supplies and optical mass storage systems arena. This includes Rimage, Microboards Technology, R-Quest, MF Digital, Taiyo Yuden and many others. CD Dimensions online catalog offers a wide range of products including Blu-ray recordable discs, duplicators, DISC optical libraries, CD DVD media and CD DVD Blu-ray packaging. CD Dimensions can be accessed on the web at http://www.cddimensions.com.
###