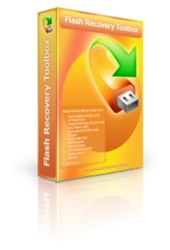 The program is intended for quick and hassle-free recovery of deleted files from FAT-formatted hard drives and portable media.
Alexandria, VA (PRWEB) October 24, 2012
Recovery Toolbox, the developer of award-winning multi-purpose data recovery tools, presents the updated and largely improved Flash Recovery – a pro-level tool for fast and hassle-free recovery of deleted files from any FAT formatted drives, including hard drives and portable media, such as memory cards and USB Flash drives. The program was initially created for non-professional users, so it requires an absolute minimum of computer literacy and absolutely no previous data recovery experience. Flash Recovery Toolbox efficiently recovers all kinds of files: data files, images, videos, music tracks, spreadsheets, text documents and many more.
The program is based on a proprietary recovery engine that uses a combination of advanced drive analysis and data recovery algorithms to ensure maximum efficiency and speed of recovery.
"We attempted to create a simple tool that would meet the demands of as many regular users as possible," explains Victor Bobrov, senior product developer at Recovery Toolbox. "So far, the feedback has been extremely positive, so we are glad to have created one of the most efficient tools for Flash recovery on the market. The greatest thing about the product is that it's a real no-brainer, and it gets the job done in situations where other tools fail."
All Recovery Toolbox products are thoroughly tested with the best anti-virus tools to ensure 100% safety. The demo version of the program does not allow users to save recovered files. Purchasing a license removes this limitation entitles the user to professional technical support and free updates.
About Recovery Toolbox
Founded in 2003, Recovery Toolbox is currently the leading provider of data recovery tools for a broad range of programs. The growing portfolio of Recovery Toolbox consists of over 30 award-winning solutions intended primarily for mainstream applications used by millions of people worldwide. The company is committed to creating intuitive and user-friendly tools that help regular users solve complex data recovery and migration problems on their own.