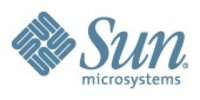 The Network is the Computer(TM)
SANTA CLARA, Calif. (PRWEB) June 4, 2008
New Flash disks integrated in storage systems and servers will join Sun's list of industry-leading products available for free, no-risk trials under Sun's Try and Buy program at http://www.sun.com/tryandbuy/. Because the New Flash arrays so dramatically reduce energy use, they will join Sun's growing portfolio of Eco Innovation products and services. To download OpenSolaris software or to learn more about the community, go to http://www.sun.com/openstorage
With the recent explosion of data that needs to be processed efficiently and immediately accessible, companies of all sizes are looking to open source storage solutions that work with general purpose hardware. Flash-based innovation enables these customers to immediately increase application performance and save on energy costs compared to traditional Fibre Channel hard drives. Flash technology will also enable greater system utilization and scalability that will decrease server and storage sprawl in already maxed-out data centers.
"Flash SSD is the most exciting innovation to happen to system and storage design in over a decade. By mid-2009, it will be in the majority of servers and deliver more capacity than DRAM and far greater overall system performance and energy efficiency," said John Fowler, executive vice president, Systems Group, Sun Microsystems, Inc. "This technology will completely change how server and storage infrastructure is designed and deployed in enterprise data centers."
2008: Tipping Point for Flash Storage
With the sprawl of under-utilized server and storage systems growing out of control and generating exorbitant power, cooling and space costs, customers are ready for Flash SSD technologies. The Flash SSD market is currently defined by consumer electronics and high volume deployment on cell phones, mp3 players, key chain dongles and other devices has driven down the cost for Flash technology. In the storage industry, 2008 will prove to be a pivotal tipping point for Flash technology, as the performance and reliability along with the price of SSD is expected to be more attractive than Fibre Channel hard drive technology. Enterprise class Fibre Channel hard disk drives have only exhibited a 40 percent year-over-year price decline in the last decade, while the Flash SSD price per gigabyte continues to fall between 50 to 70 percent annually.
Sun's Open Approach to Flash Storage
Sun is first to market with software integration and co-development of enterprise Flash technology with other industry leaders. Sun's Flash SSD technologies are optimized for MySQL database and other leading applications. These solutions leverage open source platforms and communities to uniquely address these issues, increase the performance of data intensive applications and deliver the industry's best value. The integration of Solaris ZFS in Open Storage systems, Sun's industry standard servers and Sun services sets Sun apart in the industry. These solutions are "Flash Ready" today so customers can easily, simply and cost-effectively scale their infrastructure as required and ensure data is securely stored and accessible 24/7.
Flash Storage is Greener
Customers today are running out of space, power and cooling and are looking to solve the growing problem. Forty-one percent of Fortune 500 IT execs claim power/cooling as a major problem. Over 25 percent of an IT budget is used for energy (power and cooling) costs and this number continues to rise. Flash technology SSDs consume around one fifth of the power of both memory DIMMs and disk drives, have no rotating media and consume very little power when not in use, making it "greener" than its alternatives.
Availability
Sun is expected to deliver Flash-based products to market in the 2HCY08.
For more information, please see http://www.sun.com/openstorage
About Sun Microsystems, Inc.
Sun Microsystems develops the technologies that power the global marketplace. Guided by a singular vision -- "The Network is the Computer(TM)" -- Sun drives network participation through shared innovation, community development and open source leadership. Sun can be found in more than 100 countries an on the Web at http://sun.com
Sun, Sun Microsystems, the Sun logo, Solaris, Solaris ZFS and OpenSolaris are trademarks or registered trademarks of Sun Microsystems, Inc. or its subsidiaries in the United States and other countries.