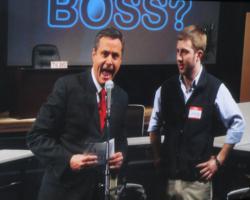 I've never seen anything like the electricity and excitement on that set.
Cedar Falls, Iowa (Vocus/PRWEB) February 03, 2011
Hosting, narrating and refereeing trivia competitions, physical stunts and man on the street contests was just a regular day at the office for Cedar Falls resident Gary Kroeger.
Kroeger recently wrapped up filming the pilot of a new game show involving nine contestants called "Who Died and Made YOU Boss?" Kroeger is an alumnus of the Second City in Chicago and Saturday Night Live in New York, and took part in the filming of the pilot as part of a partnership between Mudd Advertising and the Tribeca Flashpoint Media Arts Academy.
After moving back to Iowa in 2003, Kroeger began working at Mudd Advertising's corporate location in Cedar Falls, writing, directing and acting in hundreds of videos for thousands of customers of his employer. The rapidly expanding Mudd organization has provided media, signage and selling solutions for the automotive industry for over 30 years since Jim Mudd, Sr. founded the company in 1981. Today Mudd employs more than 160 individuals in their Cedar Falls and Chicago offices.
The "Boss" game show pilot was filmed in the state-of-the-art, 5,000 square foot, high-tech studio of Tribeca Flashpoint Media Arts Academy with a crew of more than 140 film and recording arts professionals and Tribeca Flashpoint staff and students.
"Seeing 20-year industry veterans working side-by-side with 20-year old college students is an exciting sight to see; watching them learn from and feed off each other is just amazing, I've never seen anything like the electricity and excitement on that set," Kroeger said.
This TV show is the latest in a series of digital media projects between Mudd360 and Tribeca Flashpoint Academy, the nation's fastest-growing media arts college. Cedar Valley and state officials hope this partnership will bring new workforce retraining and development programs, along with digital media arts education to the Cedar Valley and eventually the entire state of Iowa.
The partnership is in the early stages and it is moving at a rapid pace, while a number of business, civic and educational leaders from the state of Iowa have already made several visits to see the Flashpoint facilities. Chicago visitors were able to experience the hands-on, team-based collaborative and cross-disciplinary teaching methods Flashpoint has to offer.
Steven Dust, Chief Executive Officer of Greater Cedar Valley Alliance & Chamber, has spent considerable time with the Mudd and Tribeca Flashpoint teams and noted that creative technologies of all kinds are growing in the Cedar Valley, and local businesses will be looking for talented individuals to fill those positions.
"The partnership between Mudd Advertising and Flashpoint is demonstrating how technology intensive, as well as talent intensive, the creative businesses are. The Alliance and other Cedar Valley businesses see that this is an advanced, real world practice-based education that delivers top flight products to clients being served by Cedar Valley businesses and program graduates possessing cutting edge knowledge, skills and experience ready to join Cedar Valley technology-based businesses. Further, we see this as an amazing partnership for mid-career retraining. Marrying this concept to our existing higher education offerings will be the best of all worlds for the Cedar Valley economy," Dust said.
In the meantime, Gary Kroeger is just pleased, excited and a little relieved to have completed principal filming for the show and says he can't wait to see the final product. In the meantime, he's back in Iowa working again at a job he says he loves because it's always new and different.
The challenges in today's digital media world continue to grow and basically Kroeger's job is all about telling a good, strong (and often funny) story, and it just doesn't get any better than that.
# # #