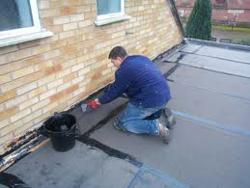 The roofing contractors that Roof Link uses are all experts in flat roof repair, installation and maintenance.
Atlantic Beach, Florida (PRWEB) September 12, 2012
Flat roof repair is a specialty service that not all contracting companies can provide to home and business owners. One North Florida company is now capitalizing on the shortage of flat roof repair companies and offering its expert roofing services seven days a week. Roof Link Inc. based in Jacksonville is now working seven days a week to keep up with the demand during the hurricane season and beyond. The roofing contractors that Roof Link uses are all experts in flat roof repair, installation and maintenance. These professionals are now on call and doing specialty insurance work for property owners for every type of flat roof available. More information about the flat roof repair in Atlantic Beach, FL services can be found at this link http://www.roofingjacksonvilleflorida.com/flat-roof-repair-atlantic-beach-fl.
The use different types of roofing material are popular in cities along coastlines. Homeowners in Miami, Daytona and Ft. Lauderdale pioneered the use of alternative roofing like flat roofs in the 1960s. These roofing styles were one way to combat shingle rot that happens to average shingles that are older than 20 years. Since there are several types of flat roofs available, contractors must undergo specialized training apart from safety training to do repair and install work.
Roof Link Inc. pays for annual training for employees in an effort to ensure that all new technologies are learned before the start of each severe weather season. The rubber, asphalt, PVC and tar roofing systems now being installed offer the latest advancements in weather proof roofing systems.
The roofing industry as a whole in states like Florida has changed drastically in the past 25 years. The quality of materials that are now used are far more advanced that the simple shingle or flat roof systems used in earlier decades. Insurance companies keep up with this technology and often pay special attention to the age of a roof and the type of roof that exists on a property or structure. When damage is reported, insurers often assign adjusters to help reduce the liability that insurance companies have during the repair and cleanup process.
Roof Link Inc. is now providing insurance coverage reviews for homeowners before any roof repair work is started. This is an effort to discover if insurers are required to pay more than what an original estimate included. This extra review is designed to help save customers money and that all roof repair work is in accordance with Florida state legislation.
About Roof Link Inc.
Good roofing companies are relatively easy to find although expert roofing companies usually come at a premium price. Roof Link Inc. built its business model around offering low prices for work that is high quality. These efforts have not been passed over by insurance companies and Roof Link is now one of the go-to responders when damage to roofs is reported in the North Florida area. By utilizing a trained staff of contractors, Roof Link Inc. is able to stay ahead of technology and improve its quality and services that are offered to Florida home and business owners annually.