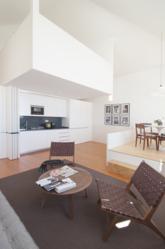 We live in the same building so we can provide the attention our guests deserve.
Berlin, Germany (PRWEB) February 13, 2013
Welcome Beyond is proud to announce that Flattered Apartments Porto are now part of its hand-picked selection of truly memorable vacation rentals & boutique hotels around the world.
Nestled between the Douro River and the Atlantic Ocean lies Porto, Portugal's second largest city and named a World Heritage Site by UNESCO in 1996. Flattered Apartments Porto are five creative apartment rentals in the exclusive Foz do Duoro neighbourhood overlooking Porto's seafront and providing a cozy and beautifully designed resting place where guests instantly feel at home.
The apartments are located near the city park, Parque da Cidade do Porto, which leads right up to the ocean and many close-by city beaches. Flattered serves as the perfect starting point to explore amazing local restaurants and the historical Ribeira old town with its historical tram running along the Douro River.
Each of the apartments provides a unique interior and exhibits curated works of different artists: "Our friend is a graffiti artist. He prepared a piece for us and told us about another artist, and it kind of started from there." owner Miguel says. The rest of the interiors are an eclectic mixture of the old and the new – including antique chairs and classic design pieces.
"I wanted to keep the flexibility to accept more than two people in each apartment. The apartments were all open spaces originally, like apartment lofts. So the idea was to offer an extra bed without intruding into the space." Miguel states. The ingenious solution was to let guests find their good night's sleep in closable, container-like boxes with additional beds that can be pulled out if needed concealed underneath.
Flattered Apartments Porto are fully equipped to be self-catering but offer additional services like breakfast, onsite yoga classes, massages, babysitting and personal guided tours to Porto on request.
To read the interview with Miguel and to see pictures of the apartments and their unique interior design, visit Flattered Apartments.
About Welcome Beyond:
WelcomeBeyond.com is a website promoting the most beautiful and unique vacation rentals & small boutique hotels worldwide.
We hand-pick places that we feel are truly original. Many reflect their owners' passion for distinctive architecture and design. Some border on quirky (and may have crossed over the line). Several are quite posh. And a few are downright rustic. But what all of our properties have in common is that they're authentic -- be it a tree house, a yurt, an igloo, a cottage, a beach house or a castle. Each is singular, memorable and definitely worth writing home about.